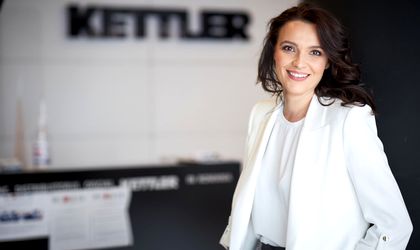 Wellness Solutions, the biggest distributor of fitness equipment for home and commercial use in Romania announces a new partnership with Kettler Garden to provide premium garden furniture and thus targets in 2023 a consolidated turnover of 4 million euros.
This year, Wellness Solutions is bringing an extra line of products on the Romanian market. By signing a partnership with one of the biggest premium garden furniture suppliers, with more than 70 years of experience in this field, Kettler, Wellness Solutions adds another quality-oriented products line in its portfolio: high-end garden furniture pieces made of superior materials and easily adaptable to any kind of space.
Diversifying the product range is an ongoing goal to attract new clients and offer to the existing base of clients new solutions to improve their lifestyle. In this context, Wellness Solutions is expanding the range of products, offering solutions for leisure spaces and outdoor activities.
The consolidated turnover for 2023 expected to EUR 4 million includes the results to be generated from the combination of the sales of home fitness equipment and gyms fitness equipment.
"We continue optimizing our portfolio of fitness products, ensuring high quality and value for money products. At the same time, we are opening new markets, aiming to fulfil our clients needs, for both indoor and outdoor activities.

The pandemic accelerated the existing trend and focus on a healthier lifestyle, well-being, mindfulness, nutrition and wellness overall. Following the health crisis, sales of the highest quality home fitness products have increased significantly as people made lifestyle changes and considered the benefits of exercising at home. We see now that the sales of equipment for commercial use start to recover, as the desire to socialize made people return to the old routines of training in the gyms. In addition, large chains began to invest in new locations and we are seeing now more and more "boutique" gyms, where people have the advantage to exercise in less crowded spaces, with an instructor, on professional, varied machines, and a more personalized training solution.", says Tania Papagiannopoulou, CEO of Wellness Solutions.
With over 10 professional, top-of-the line fitness brands in their portfolio, Wellness Solutions is one of the most important players on the wellness market in Romania. For the last 12 years, the company has been the exclusive distributor of Kettler, BH Fitness and Schwinn fitness brands in Romania and opened the first Kettler showroom in Europe.
"We have always focused on the clients and their needs, so we have sought to permanently improve the buying experience and our pre and post-sale relationship with them, offering both high quality products and the best services.", added Tania Papagiannopoulou, CEO of Wellness Solutions.
The company has also other famous international brands in its portfolio, such as Nautilus, Toorx, Schwinn, Bowflex, Everfit, BH Fithness etc., which complement the offer in terms of newest technologies, functionality, design and various budgets solutions. Wellness Solutions is also the producer for its own fitness brand – TECHFIT, distributed across Europe.
Wellness Solutions has a dedicated service team which offers personalized after-sales consulting and service. Wellness Solutions Services has a 360 degrees approach in business, with a complete set of in-house departments: distribution, sales, marketing, logistics, service and customer care, online strategy and sales, advertising.