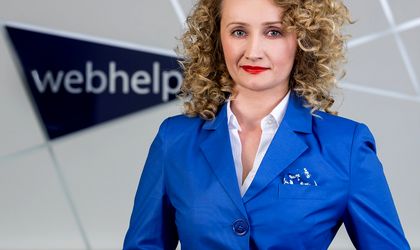 Romania's outsourcing market, which recorded two-figure growth in a year, will attract new investments and generate new jobs in 2019, a year full of challenges. After a 2018 that repositioned Romania on the map for Webhelp, the largest European BPO provider, the company is aiming for a EUR 10 million growth in its turnover on the local market for 2019.
In 2018, the group's turnover grew by EUR 2 million, and Webhelp Romania will expand its operations in 2019.
"If I had to describe 2018 in a single word, it would be "spectacular". Approaching a new business model allowed us to expand the local client portfolio by 10 percent and support a more efficient activity for two of our major clients by approaching client service from a 100 percent digital perspective," said Raluca Leonte, CEO at Webhelp Romania.
While in previous years the local branch made its turnover on organic growth only, in 2019 Webhelp Romania will also focus on acquiring a company to complete its range of services. Once the number of employees will grow by about 500, the turnover is also estimated to grow by EUR 10 million.
"We are aiming to provide our clients with a 360 offer, which can serve all departments, from marketing and financial to customer service and others. Thanks to their partnership with us, our clients can focus on developing their main activities, while together we can create opportunities for the communities in which we are active," Leonte added.
The Romanian branch will continue to provide complex, high added value, digital and multilingual services, such as Market Data Research and Invoice & Credit Control, while purely transactional activities will be gradually transferred to the group's low-cost destinations. Thus, the 100 FTEs activity launched for the largest low-cost airline in the world in Iasi will contribute to the consolidation of the centre in Moldova.
The main challenges in 2019 will be related to the economic and legislative framework.
"Last year's changes in fiscal legislation strongly influenced investors' perception of Romania's economic development for this year. If we add a high rate of staff turnover in sectors like ours, it is obvious that business models will go through major changes, so that they can sustain a growth in turnover without directly depending on the human resource, by turning to high added value services," the Webhelp CEO added.
Webhelp Romania currently has 2,000 employees and offices in four cities (Bucharst, Ploiesti, Galati and Iasi) and has a strong selection basis for young talents, with representatives in most management structures in the group's 35 countries.