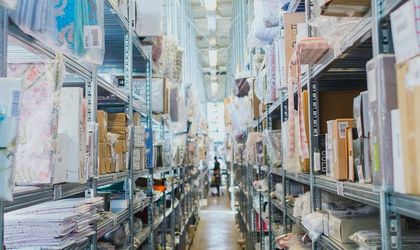 Vivre, the main online home and deco retailer in Romania and Eastern Europe, has taken over a new logistics warehouse with a total surface of 6.500 sqm usable area and a capacity for approximately 9.000 large furniture pieces. The value of the logistics investment amounts to EUR 500.000 and aims to support the volume of the products processed for the main events of the autumn: Black Sale, a campaign that will be launched on the 9th of October and Black Friday, in November.
Vivre's logistics centers have been progressively extended during the last 7 years since its inauguration. Starting with a warehouse of approximately 1.000 sqm, the retailer's current warehouses cover a total surface of 15.000 sqm of usable area and have a capacity of 260.000 products. The total value of investments in technical equipment such as racks, logistics equipment, handling, and warehousing amounts to EUR 500.000 in 2019. The processing capacity has increased exponentially, on average, 25.000 products and 4.000 packages are rolled every day. Thus, products from around 6.000 European brands – from massive furniture pieces (sofas and armchairs) to small objects (decorations and accessories) – reach Vivre's over 500.000 unique clients.
"For peak demands – the months of October, November, and December – when up to 30.000 products can be processed daily, warehousing becomes a challenge. To solve this problem, we focus on the optimization of the current space and on making operational processes more efficient, but we also choose to temporary lease warehousing centers. This year, the new space that we took over has a total surface of 6.500 sqm of usable area and a capacity of around 9.000 massive furniture pieces (sofas, corner sofas, cabinets, etc.). We provide transport for orders according to the size of the products through carriers specialized in delivering furniture pieces. Currently, we collaborate with 14 courier companies and we are negotiating to reach 19 partners in the near future as we expect an increase of the orders volume during the Black Sale and Black Friday campaigns", said Ciprian Sirbu, Vivre Logistics Director.
At the same time with logistics development, preparations for the long-anticipated autumn events, Black Sale and Black Friday, continue online. The "Black Sale" campaign will be running between October 9th-14th on Vivre.ro with discounts of up to 75% on tens of thousands of products. The collections of products with reduced prices are selected from over 5.000 sofas and armchairs, 3.000 linens and bedspreads, 8.000 carpets, 7.000 lighting fixtures and over 20.000 home and garden decorations that are constantly available on the site.