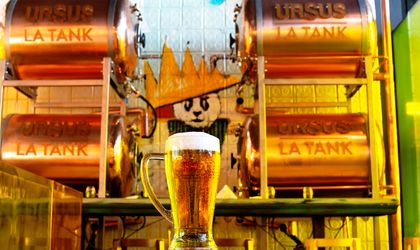 Ursus Breweries, the biggest beer producers in Romania, launches Ursus Tank, the unpasteurized fresh beer which, through a new technology in Romania, is delivered in a very short time directly from the factory. It arrives in the 24-hour factory at the selected partner locations (pubs, bars, restaurants) where beer tanks are installed and can thus provide customers with a non-pasteurized and freshly-produced Ursus Tank beer.
"This innovation brought by Ursus Breweries on the beer market in Romania allows us to put the essence of beer to its full potential: that "subtle" thing, quite difficult to describe but easy to recognize, called "freshness of taste". How is this possible with your tank beer? Clear, freshly filtered and unpasteurized beer is transferred from the factory production line directly to the consumer locations via mobile tanks specifically developed for this transfer. Once in tanks in locations, beer is ready for consumption. It is kept carefully up to the moment of service, and the tanks in the locations are equipped with a technology that allows optimal temperature maintenance. The beer is optimally preserved and shielded from light all the way, from the "hidden tap" in the factory to the consumer's glass, is a beer that offers maximum freshness of taste. Adding that our beer to the tank has a short shelf life and a shelf-life of less than a month, we understand that we can speak of simple and authentic freshness," says Sabina Luca, Process & Product Quality manager.
The producer enters, with this product, in the craft market. Since the consumer trend is to try new kinds of beer and new tastes, Ursus tries to stay on top of consumer choices with a beer that is softer than a pasteurized one.
"For us, Ursus, the beer tank is a "mobile extension" of the plant, specially housed for pubs where consumers enjoy our beers. That's why Loredana Catana – Key Customer ON Channel manager and I work with those beer and quality partners with those bartenders who consider it a pleasure, not a job, to serve a perfect beer, everything to put on the table of our consumers a unique, unforgettable experience, only by them!" adds Marian Olteanu, ON-Premise & Events National Channel manager.
Ursus Tank is available only in selected locations in the Horeca segment in Bucharest, including: Biutiful, Beert and Draft Pub, but also from the country: Buzau – O Brothers, Constanta – Library, Craiova – Downtown and Targoviste – Towers.
Ursus Breweries is the largest beer producer in Romania. The brands of Ursus Breweries are: URSUS, Timişoreana, Ciucas, Peroni Nastro Azzurro, Asahi Super Dry, Pilsner Urquell, Grolsch, St. Stefanus, Azure Unpasteurised, Oak and Kingswood Cider.