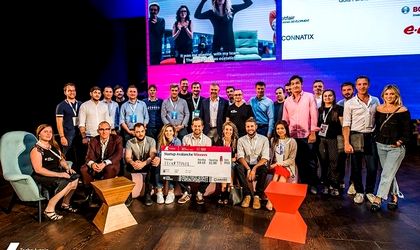 This year's Techsylvania Startup Avalanche brought 15 startups from 13 countries to Cluj, Romania, to pitch to investors and compete for a curated trip to Silicon Valley, to meet with more potential investors, partners, clients, mentors, and more. The competition was organised by Techsylvania in partnership with Risky Business, a Cluj-based accelerator fund.
Troop Travel from Spain was the winning startup, with a strategic platform for finding the best meeting locations for globally distributed teams, optimizing cost, time, and experience.
This year, a surprise prize of a table at Techcrunch Disrupt was also offered. The 15 startups, selected from more than 280 applicants, included solutions targeted towards diverse industries, including AI, drones, horeca, agriculture, HR, travel, IoT, medtech, and more.
More than 40 investors from the region and world joined, including angel local investors like Calin Fusu, Sergiu Biris, and Voicu Oprean; international angel investors; and funds and accelerators including Social Capital ($1.2 bn fund), Sunstone Capital, Greybella, Buran VC, EQT Ventures, Credo Ventures, Axel Springer Plug and Play, and many more. Investment interest was high and the teams will have follow up meetings in the coming weeks. The conference also featured the launch of two new funds/programs for startups: TastyBrands.vc, which invests in HORECA innovations and operations, and a security incubator by BitDefender.
Techsylvania Avalanche is not just a competition. After being selected to compete out of more than 280 startups this year, the startups receive remote support to improve their pitch and better structure their investment plans. The teams begin arriving to Cluj a week or more before the competition to work with the Risky Business team on their pitch and more.
In addition, the Risky Business and Avalanche team work to connect them to the Romanian startup and business ecosystem. For example, Vingineers enjoyed a day trip to Jidvei winery, where the startup demoed their solution and received valuable feedback and ultimately secured the partnership. STKTK, from Poland, was introduced to Ebriza, a Romanian startup, to explore integration and partnership opportunities.
In the days prior to the competition, the startups work well past midnight with mentors to perfect their pitch, strategize, and practice Q&A. After the competition, the startup one-pagers are sent on to the teams' investment network and the startups are introduced to relevant people and funds.
"Avalanche isn't just about throwing some startups on stage in front of hypothetical investors. It is about creating a platform for international collaboration among startups, showcasing the opportunities of our ecosystem, and providing meaningful support and opportunities for promising early-stage startups," explains Jennifer Austin, co-founder of Risky Business.
In the words of the winning startup, TroopTravel, from Spain: "Being an early-stage startup normally means that you are the last in line. You have to fight to be able to talk to investors and/or speakers at conferences and in general there is little tangible or personalized support offered. At Techsylvania, our experience has been completely different. When you are selected as one of the 15 startups to participate in the competition, you are treated as a VIP. Weeks before the competition, the Avalanche Team reaches out to you to connect you to leading entrepreneurs to work on your pitch. They recommend that you come to Cluj a week earlier to work with an amazing team from Risky Business on making the most out of your presentation. This is a key argument why you should attend Techsylvania next year if you are an early-stage startup."
This year was by far the most international Techsylvania Avalanche ever. Commenting on the experience, the IVCbox team, who joined from Kazakhstan said, "In our country the startup ecosystem is much less advanced and there is not such collaboration or community. We hope we can grow to become like what we saw in Cluj, where even competitors come together to collaborate. Working together with startup founders from Romania, USA, France, Israel, Germany, and more, we realized that even if we come from very different places, we all have the same startup souls."
For the second year in a row, the prize sponsor is AROBS Transilvania. Commenting on his ongoing support for Techsylvania Avalanche, Voicu Oprean, CEO and Founder of AROBS responds: "When I started AROBS 20 years ago, we faced many of the same challenges these early stage startups do today. Now, we have a team of 700+ across 4 countries. We are wishing the same success for all the startups that joined Techsylvania Avalanche! We're proud to be a part of helping build opportunities for not just Romanian startups, but also for startups all around the world." Play only best new friv games on the web site.
Finalists included:
Troop Travel [WINNER] – Spain/South Africa:  a strategic platform for finding the best meeting locations for globally distributed teams, optimizing cost, time, and experience.
Vingineers – USA/France: founded by an American space engineer. Uses AI to provide analytics, modeling, and disease detection based on drone imagery.
Sypher – Romania. SaaS GDPR compliance platform.
Monday Lifestyle – Romania/Sweden. Global platform for health coaches and nutritionists offering users advice, support, and recipes to live healthier.
Fastcast – Slovenia/Canada. An AI talent scout for casting in media and entertainment.
Other competing startups included founders from all around the world.
SipScene – Israel. An online marketplace for social events in people's homes.
Apiary Book – Romania: hive management app allowing beekeepers to easily track health, treatments, output, and more.
Little Data, UK/Romania – Analytics toolbox for your ecommerce business, supporting insights from marketing channels to buying behavior and more.
Oupio, Romania – Artistically designed smart lighting and IoT device creating the perfect ambiance of light and sound.
Medijobs, Romania – Career marketplace for medical specialists.
IVCbox, Kazakastan – Videochat widget allowing quick and seamless support including video, voice, chat, and screen capture in a single click.
STKTK, Poland – Beverage supply management platform integrating stock, ordering, predictions, analytics, and more.
Bookitgreen – Germany. Booking platform for sustainable accommodations, helping people reduce their eco footprint while traveling and explore eco-friendly venues.
LawyerHelp -Romania. Cloud platform providing case tracking & billing for lawyers.
LiveCare – Romania. Wearable device connected to mobile app using AI to detect and classify heart arrhythmias in real-time.
Startup Avalanche is the startup competition inside Techsylvania, organized in partnership with Risky Business. Now in its third year, the competition focuses bringing early-startups from Romania and all around the world to Cluj, Romania, to gain meaningful opportunities and connections.
Techsylvania is an event for all passionates in the world of IT, technology and business, created five years ago by Oana Petruş and Vlad Ciurca. The purpose of this event is to become a link between local communities and the latest technologies and trends, as well as to create networking opportunities with the most influential people in the IT industry. The number of participants at the event increases annually, over 2,000+ participants attending the last edition, proving that it is one of the most important technology events in Romania and Eastern Europe.
Risky Business is a private acceleration fund launched in Cluj in early 2017, which brings together over 30 of the most prominent entrepreneurs and investors in Transylvania. Risky Business is focused on providing full platform support for its portfolio startups.