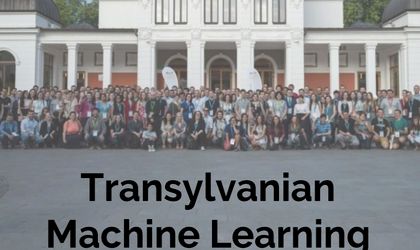 Transylvanian Machine Learning Summer School (TMLSS) will tale place in July this year, in Cluj-Napoca. The summer school project was born in Eastern Europe in order to educate young people that are deprived of the right environment to learn and to reach their potential.
The school is focused on Machine Learning and Artificial Intelligence as it becomes an important topic in both industry and academia, with large potential to impact our everyday life. The first edition of TMLSS was held also in Cluj-Napoca and brought together participants from all over the world for six days of lectures, practical sessions, discussions and networking.
The first edition of TMLSS was organised in Cluj-Napoca, at Babes-Bolyai University (UBB), Faculty of Economics and Business Administration (FSEGA). Accommodation for participants was provided at the UBB Economica II dorms, in walking distance to FSEGA for roughly EUR 70 for the entire school (6 nights), two persons per room. School fees were EUR 100 for students, EUR 150 post-doc or faculty and EUR 300 for any other (e.g. industry). The school provided scholarships (registration fee waiver, free accomodation in the dorms and travel grants) need-based. The school ensured catering for the whole week (breakfast, lunch, dinner, coffee breaks for 6 days), excluding 2 dinners.
The lectures covered a wide range of topics: Deep Learning for Computer Vision, RNNs for NLP, Learning Theory, Maths of Neural Networks, Unsupervised Learning and Generative Models, Basics of RL and Deep RL, Continuous Control, Robotics, and GraphNets.
The selection procedure took into account various aspects, all meant to provide answers to two questions: "How can the school help the career of this applicant?" and "How can this applicant help the school?". All in all, we strived to have a balance between experienced participants and less experienced but with potential, as we believe that the teaching is not only from speakers to participants, but also between participants. Once all the applications were evaluated from this perspective, they were ranked taking into account also diversity aspects. Every application received at least 3 and at most 5 reviews. In the first round of notifications, applicants who received at least 3 Accept scores were notified to be Accepted, applicants who received no Accept score were notified as Not Accepted, and applicants who received at least one Accept score were put on a waiting list and their applications were discussed individually by the selection committee. Exception from this schedule was made for applications from countries like India, Iran, were visa procedure was lengthier. In these cases, the Accept/Not Accept decision was made in the first round, after discussions within the selection committee.