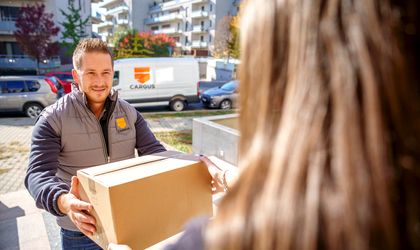 Urgent Cargus has announced a new brand identity, with a new visual identity and the change of its name from Urgent Cargus to Cargus. The rebranding process is seen as an important element of the company's international expansion and development strategy, which, in addition to the new name, also has new attributes that will guide its activity.
"Cargus is the brand that strengthens the new strategic direction and by which we want to communicate our objectives as efficiently as possible: to be on our partners' side step by step and to offer them solutions that respond to their needs quickly and safely. We continue to improve the quality of services by integrating new products and we want the new positioning to align with the mission and values ​​we promote. Also, the rebranding is meant to strengthen our customers' confidence that they benefit from high quality services, developed by a major player on the Romanian courier market.", details Jaroslaw Sliwa, Cargus CEO.
Cargus has also announced its plans to adapt to new market realities and improve its services in the next years. The company invested EUR 10.000.000 in 2020 in infrastructure and courier technology alone. The bulk of the investments focused on streamlining operational processes, with a new sorting center opened in Timișoara, an ongoing project of enlarging capabilities in Bucharest and state of the art technology for the company.
"The continuous development of Romania's e-commerce sector and consumer behavior towards shopping have generated new standards and commercial flows and we believe courier companies need to constantly invest to meet demand. As a leading courier company, Cargus is making significant investments in its sorting and delivery capacity to ensure the best possible service to our customers", declared Jaroslaw Sliwa, Cargus CEO.
A strategic area of investment for Cargus was the sorting center in Timișoara, which will operate as a gateway for international parcels in the company's network and as a response to new market realities, Cargus has announced in October 1.000 new jobs as it looks to significantly expand its current 5.000 staff and partners team.