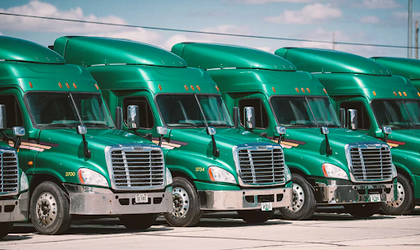 Whether you own a fleet of commercial vehicles or you are a manager for a company-owned fleet, managing high-value vehicles with valuables on board is a tough and stressful job. While making sure that the vehicles are in good mechanical condition is one job, the other major component is managing the drivers and the staff that are responsible for the upkeep of the vehicle. Many freight and moving companies go through a lot of problems because they hire incompetent staff, lack the skills to train their team, or simply don't have the right processes in place to make sure things go smoothly.
In the past, this was far more challenging when the last time you would see your vehicle or driver was when they were exiting the warehouse. Today, through various vehicle monitoring systems, better communication, and more intelligent vehicles, it's a lot easier to keep an eye on and manage things. However, problems such as increased traffic, longer routes, and newer kinds of cargo have also added new challenges for both drivers and fleet managers.
If you are struggling with fleet management, then dash cams might be a solution that can help you out.
Helps Keep Your Drivers In Check
One of the biggest and most important variables for any fleet manager to control is the quality of service rendered by vehicle drivers. Regardless of the size of the vehicle, you need a person who is not only competent at what they do but is a responsible professional who can be relied on. It is a well-known fact that monitoring can have a big impact on people's behavior. Whether that is through a tinted glass in an interrogation room or in the form of a surveillance camera in the workplace, when people know they are being watched, their behavior changes. Dashcams in commercial vehicles can have a similar impact on drivers, and this is always for the benefit of the vehicle owner.
Provides Live Monitoring
The latest version of dashcams provides you with live connectivity to the vehicle and the driver. In fact, some models will even give you the facility to talk to people in the cabin and even share things over an internet connection. While many modern trucks do come with inbuilt GPS systems, it can be hard to install such a system on an older vehicle. With the limited space and functionality, it is a lot easier to have an integrated GPS with dash cam that can give you the best of both worlds at a very affordable price. Some of the latest dash cams can have either a secret GPS that is good just for relaying the vehicle's location back to headquarters or it can have a GPS navigation that can assist the driver in finding their way to the destination.
Protects You From Fraud
With any kind of vehicle, road accidents are always a concern. Whether you are driving it yourself or you have a professional driver taking care of the delivery, there is always the risk of getting into a collision. However, when the vehicle in question is a commercial transport vehicle, the implications of an accident can be far more severe. There has been an increase in staged accidents recently, as it is a great business for the beneficiaries. Especially when it is with high-value vehicles such as luxury sports cars or large commercial vehicles, the fraudsters use this opportunity to make money. While vehicle damage is one thing, they also make a lot of money by faking injuries and putting in exaggerated claims. With good dash cam surveillance, you have a complete recollection of exactly what happened, and this video can be a huge asset in an accident trial.
Additional Features And Functionality
The latest dash cams offer a lot of functionality. Whether you are looking for on-road features or entertainment services, you can probably find it in a dashcam. This saves you from having to spend on multiple devices and also makes it a lot easier to manage things in the cabin as you only have to deal with a single device. Moreover, you can remove the dash cams whenever you want, so you don't have to worry about your expensive gadgets getting stolen from the vehicle.
Dashcams make the job of driving a commercial vehicle easier and also help reduce the stress and worry of fleet managers. When you go out to purchase dash cams, you will find a large selection of products ranging from very low-priced options to extremely expensive options depending on the features you are looking for. The best option is to go for something that is reasonably priced, is from a well-reputed manufacturer, and offers a combination of reliability and functionality.