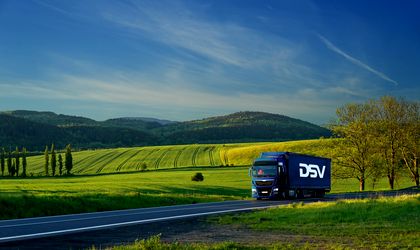 DSV Road, one of the largest freight companies in Europe, estimates an increase of more than 30% in the demand for groupage transport on domestic and international routes and ancillary services, which will represent approximately 55 million euros of the company's entire business in 2023.
Groupage transport is one of the most sought-after types of transport, bringing over 50% of DSV Road's business in Romania. In 2023, both the demand for this type of transport and the demand for the 16 services adjacent to this mode of freight transport have increased significantly, mainly for fixed delivery, lift and lift, one-day notice, delivery or pick-up services cargo at a preferential time, delivery of dangerous goods (ADR) and cargo insurance.
"The increased demand for groupage transport and related services is generated by several factors, including the economic context and high inflation, this type of transport helping companies to optimize transport expenses by up to 80%. Another reason is that DSV Road offers complete and flexible services that meet the most varied needs of companies in Romania, such as daily departures from/to Romania with all European Union countries, daily connections, well-established transit times, and door-to-door or terminal-to-door delivery", explains Mihai Teodorescu, Director, International Road Transport at DSV Road.
Also, an important part of the growth of groupage transport is based on the increase in demand for internal transport services for goods, between numerous localities in Romania.
"The internal transport of goods, based mainly on groupage, has the most accelerated growth among all DSV Road services, with a 25% increase last year, as a result of the development of the customer portfolio, also helped by the expansion of the large store chains on the territory of Romania. Therefore, in 2023 we estimate an additional growth of 10% for domestic transport services, which are currently used mainly by retail, food, automotive and electronic companies", declares Cătălin Papuc, Director, Domestic Road Transport at DSV Road.
The over 30% increase in demand for groupage transport and related services is also driven by the great flexibility offered by groupage transport, with companies able to import or export flexible quantities of goods, from 10 kg to 3,000 kg.
At the same time, the investment in digitalization contributed to the development of the groupage business, DSV Road offering companies the opportunity to follow in real-time, through the track and trace option, where their goods are on the routes between Romania and other European countries, through the myDSV application. DSV Road continues to invest in this application, where customers can also plan their routes, and which it aims to be used by over 98% of customers by the end of the year.
The most transported goods in groupage are products from the fashion category, car components, niche products, electro-IT products, but also food and other perishable goods. Because it helps companies to optimize transport costs, groupage is preferred by all types of companies, small, medium, and corporate, regardless of the size of the business, from all fields – including retail, e-commerce, IT&C, and automotive.
Romania is one of the most important markets in the region for the Danish group DSV, present locally for almost 30 years. Thus, for 2023, the DSV Road company expects a 10% increase in business, after last year it recorded a turnover of 70 million euros, 40% higher than in 2021, due to the increase in the number of customers and demand for all types of transport, especially groupage and intermodal.