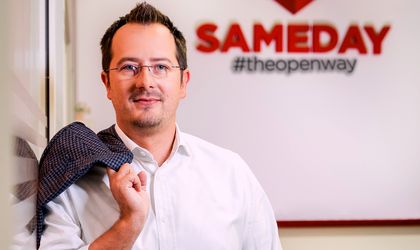 Sameday conducted a study on how e-commerce consumers relate to the courier market. The results illustrate key data about the profiles of the Romanian buyers and the expectations they have from courier companies.
76% of e-commerce consumers place at least 2 orders per month
According to research, in Romania, 76% of those who shop online place at least 2-3 orders per month, predominantly in the following categories: fashion (75% of women), electronic (72%, both women and men), personal care (64%, mostly white-collar women), household appliances (57%), sports, recreation and hobbies (52%, mostly women with higher education). For online marketers, this data illustrates the need to adopt retention improvement tactics.
An important tactic in this context is to choose courier services partners that meet the needs of end users. According to the study commissioned by Sameday, consumers are open to increasing the frequency of purchases in the digital environment. What would motivate them to do so are the following arguments:  better delivery time, predictability and continuous availability, 24 hours a day, 7 days a week, for parcels.
Frequent interaction with courier service providers makes Romanians have clear preferences regarding the transportation options of their orders. Thus, home deliveries remain the solution chosen by most online shoppers, for the comfort and convenience offered.
Another option that occupies a major place in consumers' choices and that is constantly growing, year  on year, is represented by the easybox lockers, Sameday's delivery service, which has enjoyed real success since its launch, in September 2018. Only this year, the lockers registered a significant increase in national adoption, of over 50%, compared to the previous year.
When it comes to returns, 1 in 4 buyers does not feel the need to return purchased products and, thus, has no experience with refund procedures. Instead, 30% of those who are familiar with returns choose to do so using easybox lockers.
The ideal delivery service is efficient, punctual and fast
When it comes to the ideal delivery service, its elements are very similar to the premises for which buyers choose online purchases. Thus, consumers want to benefit from comfort, an approach that will make their lives easier and give them the freedom to enjoy every day, without worrying. That's why it is important for the courier service provider to offer a seamless experience that will make people perceive the company as a trusted partner, which helps them and saves them time.
Asked what their ideal delivery service should offer, respondents identified the following functional benefits as a priority:
Ensuring parcel integrity;
Compliance with delivery deadlines;
Announcing in advance the day and time of delivery of the package;
Speed of delivery.
60% of respondents prioritize stores that offer easybox delivery
60% of respondents regularly use the Sameday delivery service in easybox lockers, while 17% choose it occasionally. Consumers who prefer it consider it an excellent option, an alternative to home delivery (78%), very easy to use (84%). The out-of-home delivery (OOH) service is so popular with end users that it impacts their purchasing decisions (60%) – which means that more than half of online shoppers prioritize e-shops that offer easybox delivery.
The top 3 attributes that respondents notice about easybox lockers are that they are accessible at any time of the day, they are intuitive and that they ensure fast delivery. However, there are also aspects that users would improve, the most important being the distance from their offices or homes. Empathizing with the needs of consumers, Sameday aims to develop the easybox network, by continuing its accelerated expansion in 2022.
Asked what they would choose between the PUDO delivery option (pick-up, drop-off, at dedicated offices, where they can pay both cash and by card) and the easybox locker, 73% of respondents chose the delivery service to easybox lockers, which distinguish themselves through flexibility, ease of use and lack of human interaction. The last feature makes the service an extremely effective option for those who do not want to enter crowded stores and stand in line to take their order.
"The results of the research are a confirmation of the strategic direction we are pursuing in Sameday and of our vision to make available to customers an easybox at a maximum 5 minutes walking distance from any urban point in Romania and Hungary. Delivery to the easybox has become the new standard in the industry, through which we revolutionize the courier experience, a goal that we aim to achieve through our other services, as well. In fact, the study showed that we have capitalized on the quality and delivery times and that there are directions which we can further optimize. Furthermore, we are working on ambitious projects that I am convinced will create value for our customers. Finally, in the country or abroad, we speak the same language of improving the customer experience through technology and innovation." says Lucian Baltaru, CEO of Sameday.
The delivery service at the company's easybox lockers has increased by more than 200% this year, in terms shipment numbers, and the overall network has grown 3 times since November 2020.
About the research
Based on the CAWI methodology and a sample of 800 people, women and men, between 18 and 55 years old, who place online orders at least once a month, the research deployed by Unlock, at Sameday's request was conducted between September and October 2021. Its purpose was to identify market trends and consumer expectations for courier companies, as well as the specific way in which respondents perceive Sameday services and, in particular, the OOH (out-of-home) delivery option, in easybox lockers.
The study commissioned by Sameday identified 4 types of online shoppers: Carpe Diem (women and men aged 18 to 24 and 35 to 44, respectively, part of a small, childless household in large urban areas), Fit for Society (men, aged between 18 and 34, predominantly from Bucharest or the Transylvania region), Connected (women and men, aged between 25 and 44, from large and medium urban areas), Perfect Citizen (predominantly women, over 35 years old, married and with children, from medium-sized urban areas).