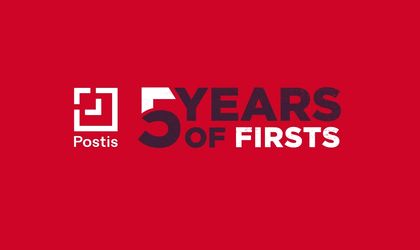 Postis, Romania's first last mile platform that automates, optimizes, and unifies delivery processes, prides itself on its 5th anniversary.
The Romanian market was marked by a series of digital transformations with the rapid growth of the e-commerce sector together with the prevalence of digital tools that have become readily available to the wider public. This dynamic has changed the way consumer experience brands both online and offline and has amounted to the sophistication of the market. Postis was the first LogTech startup in Romania that acknowledged this. The company's bet on technology, as a powerhouse, to solve complex issues in logistics by leveraging data-driven decisions has paid off.
In 2017, Postis started deploying Artificial Intelligence to automate business decisions and optimize processes around online ordering and post-purchase process delivery. Over the years, Postis was at the forefront of omnichannel expansion and has helped simplify numerous shopping interactions at both brick and mortar and online level. By integrating with Postis, merchants have streamlined their achieved work efficiency and have offered seamless buying experiences to their customers, unifying their top customer journey with their bottom one in order to achieve undisputable results.
In the 5 years since its launch, Postis' Platform brought numerous technological innovations to the sector and added new tools to the Romanian market in order to simplify and streamline delivery processes and improve the overall buying experience offered to end buyers. Among these, we can mention:
Postis' CX Tracker, empowering the end customer to voice his opinions about the company's products and services, immediately after the delivery was completed. Through rating, feedback, and NPS (Net Promoter Score) forms, retailers find out in real time what is important to their shoppers and what areas need to be improved in their overall services;
Parcely by Postis, the first real-time application of its kind helps end users track all orders, regardless of retailer and courier company, in Romania. This will launch soon in other European countries;
When launched, Click-to-Door has revolutionized the way the market makes sense of the data at the beginning of the funnel and the data available at the end of the funnel. Postis was the first to produce an in-depth report of this kind for the Romanian market. Through this, it has enabled e-commerce owners to better understand the causal relationships between consumers' first interaction with a brand (promotional tactics, website experience) to the very last interactions (delivery, post-purchase);
Postis' Delivery Widget, deployed in the online store front, namely in the shopping cart page, gives shoppers the ability to decide where, when, and how their orders are delivered. By diversifying delivery options, retailers can respond to customers' specific preferences and needs, constantly improving the shopping experience on offer, increasing their conversion rates, and raising more brand evangelists among their customers;
Postis' Driver App, a mobile application for companies that have their own vehicle fleet and want to integrate it with other delivery solutions for unified and efficient order management and dispatching.
What Postis looks like 5 years after launch and what's next
Postis is one of the leading and most advanced IT platforms specialized in logistics and last-mile delivery in Europe. Postis is present in Central and Eastern Europe, South-East Europe, the Balkan region, and Western Europe.
Its rapid expansion has been facilitated by strategic partnerships with both local and international clients such as Auchan, Carrefour, IKEA, Intersport, Cora Hypermarche, Mathaus, etc., as well as with businesses in the technology arena such as: Axes Software, BaseLinker, DSV, Gebruder Weiss, Innobyte, Pluriva, Point Logistix, Teamshare, Wizrom, and many others.
"Five years ago, we set out on an ambitious mission to redefine logistics processes and give companies control and transparency in the delivery and post-delivery segment. The road has not been easy, but with the confidence that what we aimed to do would solve some real business problems and make the work and lives of carriers, retailers, and their customers better, we have managed to pave a way. Together with our customers and partners, we broke new ground, brought new ways of thinking to the market, and, through the power of Postis technologies, we helped modernize and transform three very important industries: transport, logistics, and retail. We will continue to innovate, bring new tools for advancement and efficiency, transparency, and control to our customers' in Romania and around the world," says Mircea Stan, CEO & Founder of Postis.

 
Currently, Postis provides:
A catalog of over 200 couriers, shippers, and carriers, for all types of products and customer experiences and a portfolio of more than 200 customers, both medium and large, local and international;
Automation, optimization, and delivery management services to and from over 25 countries;
Achieved milestones:
Sustainable business growth for the entire period and 1 million euro ARR at the end of 2021;
40% revenue share comes from regional markets;
HQ in Bucharest, a regional office in Wrocław, Poland, and, by the end of the year, a second one will be opened in Germany.