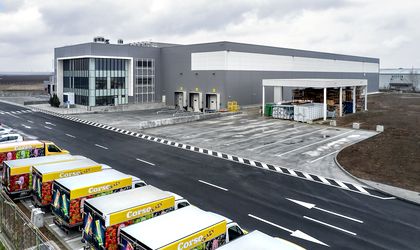 Macromex, leader in the food industry in the temperature-controlled segment, announces the construction of the second warehouse, Corso Distribution Center, located in Chitila. The cost of the investment amounts to EUR 15 million and is financed both from personal funds and from a long-term investment loan offered by Alpha Bank Romania.
Logistic and distribution services
The new warehouse  covers an area of 10.000 sqm and consists of the storage area for frozen food, the one for refrigeration and an administrative building with two floors as well as various technical buildings. These buildings are located on an area of 50,000 sqm of land, on which a future expansion is envisaged.
Corso Distribution Center has a storage capacity of 10,500 pallets in the temperature zone of -24 degrees Celsius and 2,200 pallets in the chilled products area (0-2 degrees Celsius) with seven and three docking gates through which more than 3000 pallets will be able to circulate IN/OUT daily. Also, inside the warehouse there are areas for preparing orders to be delivered to customers, which allows more than 800 orders to be processed daily.
The facility is served by a parking area with more than 150 seats for both cars and vans and trucks, and has 10 fast charging stations for electric car batteries.
The latest technologies
Corso Distribution Center benefits from the latest logistics and IT technologies for receiving, loading/unloading and handling goods, such as lithium-ion technology electric forklifts, the "pick by voice" order preparation system or the warehouse cargo management system. There is also a product training and presentation area with food preparation facilities. Both the warehouse and office area benefit from all the facilities of a good operation: dining room, changing rooms, meeting rooms, toilets, to the most modern standards.
"The fact that technological progress is a continuous, general and irreversible process is unquestionable. What sets players in the macroeconomic landscape apart, however, is rather the speed of adaptation to continuous change and the adoption of technology as it develops. Macromex is one of those agile players with the skills needed to build both mature and new markets, relevant products and brands, top teams and infrastructure. Thus, this investment naturally meets the needs of the company to ensure the highest quality standards regarding logistics and distribution services", says Albert Davidoglu, CEO Macromex.

Albert Davidoglu, CEO Macromex
Concern for environmental protection
In terms of caring for the environment, Macromex has many projects implemented, such as selective waste collection and recycling, including electrical and electronic equipment, and the abandonment of the purchase of bottled water. Paper consumption has been massively reduced by implementing an electronic system for issuing, circulating and archiving various internal documents. For more than 5 years, in the warehouse in the Turd Plain, 30% of the electricity consumed comes from a farm of photovoltaic panels.
Consideration is given to the purchase of electric cars and vans in the future, which is why at Corso Distribution Center. 10 fast charging stations have been provided. Automatic timers will also be used for electricity saving, which virtually automatically interrupts the electricity supply, outside of working hours, of various lighting and air conditioning equipment. LED-based lighting and state-of-the-art, energy-efficient cold equipment will be used to ensure a 30% reduction in electricity consumption compared to the old location, although in Chitila the storage capacity will be double.
Impact on the community
"We found a great openness and continued support from local authorities and utility providers, which basically helped us to comply with the investment plan, especially in the current pandemic context. The presence of Macromex in Chitila will bring many opportunities to the locals. Macromex will also support the creation or development of complementary small businesses around the new distribution center.", said Albert Davidoglu, CEO of Macromex.