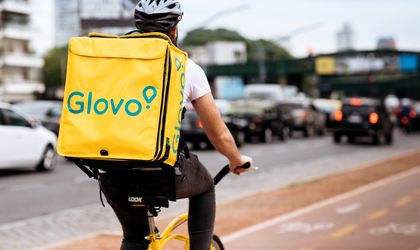 Glovo, the multi-category platform that provides access to various types of products and dishes for customers on demand, announces the launch of "The Couriers Pledge" in Romania. This is a series of initiatives designed to improve the experience of couriers who deliver through the platform.
Glovo gives couriers active on the platform access to road safety courses with the aim of preventing unforeseen situations in traffic. According to the company's representatives, more than 80% of couriers active in Romania will have participated by the end of 2023.
As part of its commitment to safer roads, couriers using Glovo now are able to take periodical safety courses provided by certified entities. Glovo wants to raise awareness about road and personal safety among couriers, safety courses a key element of the Couriers Pledge. 10% of all couriers in the markets where the pledge has been rolled out have completed these sessions, aiming to reduce traffic incidents. In addition, Glovo has rolled out the SOS button for the courier app, providing couriers with an easy-to-use tool to call for help and notify authorities in emergency situations.
To help couriers upgrade their skills and unlock new opportunities, Glovo will provide to all active couriers free access to the digital platform G-learning, where they can discover over 65 online courses such as marketing, photography, English, IT skills, business management, or personal and professional development. More than a quarter is available in Romanian
As part of its commitment to increase the benefits available to couriers, the company is initiating the Glovo Club program, constantly developing partnerships for providing access to  extra-discounts to courier app users. This way, the couriers will enjoy special promos on products and services such as: restaurants, car parts, service for cars, financial consultancy and entrepreneurship.
Starting this week, Glovo is also launching Delivery Guru, a loyalty reward program that seeks to recognize those couriers who use the App the most.
"With the launch of The Couriers Pledge project, we are aiming to improve the experience of all couriers who use our app. The opportunities we are making available today for couriers are just the first layer of the project and our mission is to continue to develop The Couriers Pledge further, constantly adding new features.", said Iustinian Belghir, General Manager Glovo Romania and Moldova.
More than one year ago, Glovo pioneered The Couriers Pledge in some of the countries where the platform operates. Since its global launch in October 2021, more than 22,000 couriers across Poland, Morocco, Georgia, Kazakhstan, Croatia, Montenegro, Bosnia & Herzegovina, Ghana, Kenya, Kyrgyzstan, Serbia, Slovenia and Bulgaria are already benefiting from The Couriers Pledge, accounting for almost a quarter (32%%) of all couriers that are registered in the Glovo app globally.
Glovo is committed to implementing The Couriers Pledge in all countries where it operates by the end of 2023.
Learn more about The Couriers Pledge: https://www.thecourierspledge.com/.