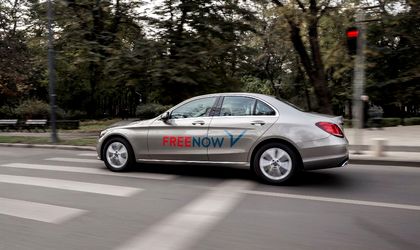 FREE NOW, Europe's leading provider of multimodal mobility services, is joining the European Mobility Week, which takes place across Europe between 16 and 22 September, and encourages passengers to travel sustainably using the ridesharing and taxi app, contributing to less traffic and spending less time seeking a parking spot, thus contributing to more space for pedestrians. FREE NOW offers 1,000 free rides to passengers who choose to leave their personal car at home during the European Mobility Week in favor of the mobility alternatives offered by FREE NOW and plants a tree for each of them, in partnership with the Plantam fapte bune in Romania initiative, for a more sustainable and greener environment.
Passengers choosing FREE NOW during the European Mobility Week can be among the 1,000 riding for free and having a tree planted in their name. Half of the rides will be donated for passengers riding on September 22nd, the official European "Car-Free Day", a day when people across the continent are urged to become more environmentally aware and take a small action that can help fight climate degradation. FREE NOW users can take part in this action and benefit from a free ride and a tree planted in their name by using the app, where they will find a specific promotional code to use between September 16th and 22nd.
FREE NOW has decided to join the Plantam fapte bune in Romania planting initiative. Through afforestation, Plantam fapte bune in Romania contributes to improving air quality, as well as reducing the risk of landslides and preventing erosion.
"At FREE NOW, we have made it our mission to encourage mobility alternatives that allow passengers to move around freely, safely, and without the hassle of finding a parking space in crowded cities. More than that, we want to raise awareness on the impact that using private cars has on the environment. With this initiative, we are hoping people will turn to ridesharing more often, thus reducing the pollution levels in the cities. We are inviting our users to use the free rides between 16 and 22 September, and we are happy to partner with Plantam fapte bune in Romania for turning these rides into oxygen sources", said Lennart Zipfel, Country Manager FREE NOW Romania.
Sustainability is one of the main CSR pillars for FREE NOW across all countries where it operates, as transport represents almost a quarter of Europe's greenhouse gas emissions and is the main cause of air pollution in cities, according to a European Commission report. Urban mobility is constantly changing, as pollution levels in cities rise, time spent in traffic is increasing and people are the ones suffering the effects. With this in mind, FREE NOW is encouraging people to find alternatives to their private car for moving around the city and providing a solution to raise awareness of sustainable transport alternatives.
Earlier this year, FREE NOW was declared the first mobility platform to aim to become Net Zero in Europe by 2030. FREE NOW will be carbon-neutral immediately, targeting at least 50% fully electric vehicle rides by 2025 and 100% zero-emission rides by 2030 in all key European markets. To date, FREE NOW has achieved a 71% increase in Battery Electric Vehicle rides and a 20% increase in electric vehicle drivers on the platform across Europe. Specifically, as of January 2021, FREE NOW has integrated 130,000 electric vehicles into the platform.
In efforts to have a carbon-neutral footprint, FREE NOW has already offset 173,000 tons of CO2 emissions, which covers emissions produced by the company and its services since the beginning of 2020.