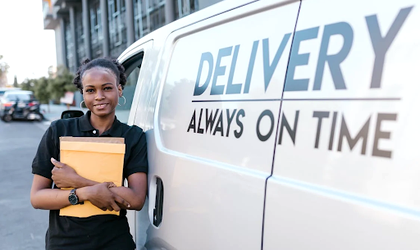 Are you looking for a career that offers both challenge and reward? Becoming a logistician, the logistics professional responsible for overseeing supply chains and transportation networks is one way to do just that. Logistics is an incredibly intricate field – one where having a good eye on the details matters quite a lot! To ensure your success as a logistician, it's not only important to know how best to move materials from point A to point B but also how to analyze data alongside various stakeholders associated with the process. In this blog post, we will discuss practical steps you can take forward with developing your logistics career. Alongside enhancing skills often acquired through training programs or related industry experience, effective client relations management and using data trends conveniently are going to be key drivers in building up your resume for long-term success in this field. With these smart moves, you'll soon find yourself well on the way toward becoming an expert logistician!
Understand What a Logistician Does
To understand what a logistician does, it's important to review job descriptions and familiarize oneself with the varied roles and responsibilities they must fulfill. As a logistician, you would be in charge of managing the flow of goods throughout an organization or operation by handling tasks such as inventory control, storage, transportation, and procurement. 
The challenging yet rewarding role requires exceptional analytical thinking, organizational skills, communication abilities, and problem-solving aptitude to ensure that freight is loaded for delivery on time and efficiently. Namely, the unc supply chain management and logistics analysis are at the heart of being a logistician. There are a lot of Supply Chain Management educational options and you can start by researching the various programs available to gain a fuller understanding of the field.
Acquire Education and Training
When it comes to becoming a successful logistician, acquiring the right education and training is essential in developing the necessary skills to thrive in the field. Researching programs that provide insight into logistics, mathematics, statistics, and operations management is an excellent starting point for anyone looking to make a career out of this rewarding profession. From there, assessing the job duties of a logistician and understanding the scope of work involved can be key in helping to further define what additional skills are needed when entering into the field of logistics. With proper dedication and initiative, anyone can choose to pursue this lucrative career path with enough preparation and experience.
Take Advantage of Networking Opportunities
Networking in the field of logistics is essential to stay up-to-date on industry best practices and developments, making connections with potential employers or clients, and gaining valuable insight from experienced professionals. Attending conferences, seminars, and other industry events can offer an unparalleled opportunity to share ideas and perspectives with peers while creating meaningful connections that have the potential to support your long-term growth. While it's easy to focus solely on your work obligations, set aside time to attend events related to logistics and make yourself a part of the larger network. Doing so is invaluable for any logistician seeking career advancement or wanting to expand their knowledge base.
Keep Up-To-Date With Industry Trends and Practices
Keeping up-to-date with the latest industry trends and practices is essential to any logistician's career. By staying informed of the advances in logistics technology and current best practices, you'll be able to stay ahead of the game and gain an advantage over your competitors. That being said, it's important to never skimp on industry research and knowledge – investing extra effort here will give you a strong foundation for your future in logistical operations. To keep up-to-date on the latest industry news, try subscribing to relevant magazines or newsletters, attending conferences and seminars, or joining online forums and chatrooms. With these smart steps taken, you're well on your way to building a successful logistician career!
Pursue Professional Certifications and Licenses
If you're in the process of developing your logistician career, it's worth considering pursuing professional certifications. These can make a real difference in standing out among other job candidates and giving your resume that extra edge. With certifications like Certified Logistics Technician (CLT) or Certified Supply Chain Professional (CSCP), potential employers will see that you have the skills and expertise in logistics to contribute to the organization. Getting certified can be an important step toward a successful career as a logistician.
Develop Your Leadership Skills
As a logistician, having strong leadership skills is essential. To stand out to employers seeking reliable and competent personnel, demonstrate your adaptability, ability to problem-solve on the spot, and the other characteristics that make you a valuable asset to the team. Being reliable and dependable will show potential employers you can be counted on in any situation while having excellent decision-making skills will prove your effectiveness when handling various issues that come up during the job. All of these qualities together illustrate you possess the necessary leadership capabilities for them to consider you for their operations. Show that you have what it takes and seize this opportunity to develop your career into something amazing!
Achieving success in the logistics field requires hard work and dedication, but with the right skills and resources, you can develop a career as a logistician that offers job satisfaction and financial security. Following these smart steps will provide you with an invaluable foundation for long-term professional growth. From gaining expertise through continuing education to networking with other peers within the industry, every step counts when it comes to launching a successful logistician career. Pursue certifications, stay up-to-date with industry trends and technologies, and embrace opportunities for leadership – all of which contribute to becoming an expert in the field. With commitment, perseverance, and the ambition to keep learning throughout your journey, you can pave your way toward an exciting new destination as a well-rounded logistics professional.