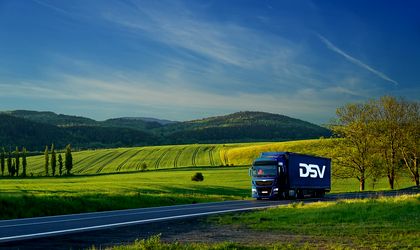 The freight transport market in Romania continued its growth rate in the first quarter of the year, but below the level of 2022, against the background of the decrease in consumption and implicitly in industrial production, shows an analysis by DSV Road, the third largest service transportation company in Europe. In this context, DSV Road recorded up to a 10% increase in cargo volume and a 20% increase in turnover in the January-March period compared to the same period last year.
According to DSV Road, there is a slowdown in the pace of industrial production affecting both the import and export of goods. Thus, among the goods categories that register decreases are household appliances, construction materials, fittings, and power tools, maintaining the demand for goods of basic needs, pharm, and automotive. The services sector was growing in Europe in the first quarter, which offset the reverse effect in the industrial sector.
"From the data we have from the market, after 2022 in which the road freight transport market experienced accelerated growth, the beginning of 2023 indicates a slowdown in the post-pandemic growth rate, influenced by the high level of inflation. But for DSV Road, the year started well, with a 22% increase in sales in the first quarter compared to the same period in 2022. Obviously, the inflationary process also had its say, but we have an increase in the number of orders by 11 %, but also an increase of up to 10% in the volume of goods transported, especially from new projects, but also from existing business", says Sergiu Iordache, Managing Director of DSV Road.
DSV Road representatives point out that the freight transport market in 2023 will have a slightly upward trend, with a marginal increase in transported volumes estimated this year, of 1% at the European level, according to Transport Intelligence.
"High inflation will affect consumer demand, which will lead to lower demand for transportation services. A reduction in production is also expected in Europe, which will also reduce demand for freight services. We believe that in Romania we will have an increase above the European average, due to investments in infrastructure, including the effect of investments from PNRR", explains Sergiu Iordache, Managing Director of DSV Road.
Despite this economic context, by developing the customer portfolio and optimizing routes and cargo loading, DSV Road estimates an increase in demand especially for groupage transport, but also for intermodal and domestic transport. Thus, the company estimates a 10% increase in business, after last year it recorded a turnover of 70 million euros, 40% higher than in 2021.