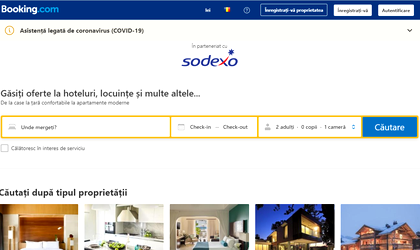 Sodexo Romania, one of the leading providers of employee benefits services in Romania, has signed a partnership with Booking.com to enable users of Tourist Pass vouchers and cards to book holidays in Romania using the digital travel platform. The partnership promotes the network of over 6,000 Sodexo travel affiliates.
"Through the Booking.com cooperation, Sodexo becomes the first issuer to offer users a fully digital experience when planning and paying for holidays at travel units that accept holiday vouchers. We want this partnership to allow employees to reconnect with family and friends, while maintaining the safety rules in force and to support tourism and HoReCa operators in Romania, whose locations have been severely affected during this period," said Sven Marinus, CEO Sodexo Pass Romania.
Recipients of Sodexo holiday vouchers are able to book stays across Romania by visiting http://booking.com/sodexoromania. All properties that allow payment by the Tourist Pass card have been clearly highlighted and payment can be made at the property using either vouchers or the Tourist Pass card, or through mobile payment tools such as Sodexo Pay or Apple Pay.
Booking.com has more than 20,000 accommodation options in Romania, of which over 6,000 are available for booking by Sodexo users.
Tourist Pass holiday vouchers are similar benefits to meal vouchers, which employees can use to purchase travel services anywhere in Romania (the travel package may include along with accommodation, other services as meals, transport, leisure activities). This benefit allows companies to motivate employees, ensuring the necessary work-life balance. The Tourist Pass card does not impose value limits and facilitates secure and contactless payments. The validiy of vouchers granted between March 2019 – December 2019 has been extended by law until May 31, 2021.