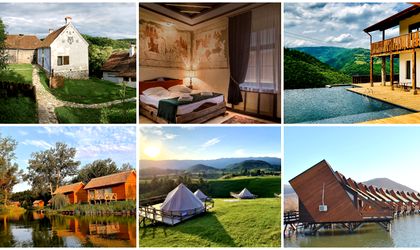 With international travel still in doubt, vacation-goers need to focus on local tourism offers. Although Romania is not necessarily recognised as a top tourism destination, some private initiatives have managed to challenge this label. Where to, then?
By Oana Vasiliu
Discover Prince Charles's hidden spots in Transylvania
While Viscri village has become a well-known destination for any tourist who wants to enjoy a bit of Transylvanian hospitality, Prince Charles and Count Kalnoky's guesthouse in the remote village of Zalanpatak will offer you a real journey back to a couple hundred years ago, with no Wi-Fi, radio or television to entertain yourself; just nature. Prices start from EUR 100 per night.
Manors and castles
Daniel Castle (Talisoara village, Covasna county) dates back from the beginning of the 17th century, built by Mihály Daniel, deputy captain of Three Chairs (later Covasna county). Each room is different, where century-old wooden elements are combined with traditional style in a modern way. Prices start at EUR 120/night. Polizu Manor (Iasi) is also an option: a luxury domain built in the 19th century, lying on top of the picturesque hills of Moldova. Prices for one night start from EUR 100.
Infinity pools with spectacular views
Cabana Barlogu (Somesu Rece, Cluj county) is has an infinity pool with a breathtaking view over the mountains, but the home can only be booked entirely for EUR 750/night, while Pensiunea Ecaterina (Berzasca, Caras Severin county) brings you an infinity pool near the Danube river. Prices here start from EUR 60/night.
On the water
Bungalows near water or even on the water are also a big hit in Romania. Zaga Zaga Resort near Tecuci is almost sold out for the summer, but you can check out other options such as the Egreta Complex on the Danube river, a unique project in Europe. Prices start from EUR 60/night.
Outdoor 5-star experience
Glamping resorts are the perfect new trend for those who want to experience luxury tent accommodation. Check out Ursa Mica Glamping Resort or Sunrise Glamping Resort. Wegloo is also a new entry, with igloo accommodation available in Azuga.
The wonders on Danube river
Egreta complex is situated on the shores of Danube, in Caras Severin county, and the view is really breathtaking. Accommodation is in individual guesthouses suspended on pillars above the Danube, a long pontoon being their connection with the Romanian bank of the river. Each bungalow is composed of bedroom, living room, television, AC, terrace and private bathroom with shower. Free Wi-Fi access is available throughout.