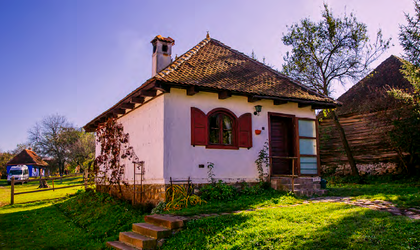 Tourism has been one of the most affected industries during this recent period, with huge financial problems and the inability to return the money to those who had booked holidays in advance. While we don't know how the virus will evolve, everyone is suggesting that we stay local and embrace our country's beauty, a concept known as a staycation. Where to, then?
By Oana Vasiliu
The term staycation was added to the 2009 version of the Merriam–Webster's Collegiate Dictionary and is a portmanteau of "stay" and "vacation", meaning a period in which an individual or family stays at home and takes part in leisure activities which are within driving distance of the home, and further developed as a holiday spent in one's home country rather than abroad. Nearcation, holistay or daycation may also be used with the same meaning.
Travlocals: the online platform providing premium accommodation across Romania
While Booking and Airbnb are hugely popular but also charge landlords high fees, there's a local online platform that is getting more and more hits: Travlocals.
"I started travelling around the country and discovered beautiful places and hidden gems that many people have no idea even exist, so I decided that it would be nice to create a sort of aggregator with all of the nice and genuine accommodations and experiences that can be found in Romania. I started out with Wildventure in 2018, which only provided ideas to those looking for an escape, and because it was a success, I took the next step and developed Travlocals at the end of 2019," says founder Radu Fusea.
In just six months, of which three were in complete lockdown, the Romanian platformed managed to gather 70 accommodation units from all over Romania, 700 customer accounts and over 800 bookings, with 10 percent fully booked accommodation.
Where to? "People seem to have a preference for Transylvania and I believe that is because it's an area that combines a varied natural landscapes with both tourist cities and authentic villages, as well as lots of history and tradition. Most of the accommodations on our platform are there, but we also have some very beautiful places close to the seaside and the Danube Delta, in the Apuseni Mountains or in Bucovina, each unique and charming in its own way. Going beyond location, our visitors like rural experiences but they also appreciate modern amenities, and that's why modern chalets and glampings are some of the most sought-after places. There is a special place for tree houses as well, either for families with kids or simply for the inner children who have always dreamed of one," Radu Fusea tells Business Review.
The Visit Covasna initiative
The Covasna County Association for Tourism Development has launched a campaign to relaunch and normalise tourism through the "Visit Covasna Safe Place" programme, which grants hotels and guesthouses in Covasna County a "COVID Safe Place" certification. So far, over 60 properties in Covasna County have been marked safe, and they are all listed on visitcovasna.com.
Among the additional security measures which have been proposed to accommodation units in Covasna County who wish to obtain the safety certificate are: partial use of occupancy capacity, online check-in forms, placement of disinfectant mats and hand sanitizer dispensers, measuring body temperature on arrival or upon entry into the wellness areas, wearing masks and gloves, frequent disinfection of common areas, ventilation at short intervals, allowing meals to be served in room service mode and enforcing the 1.5-metre recommended social distance.