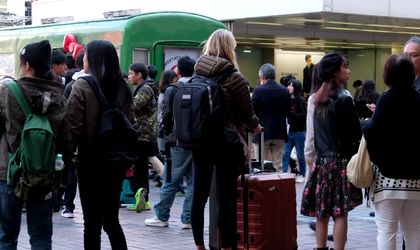 Most Romanians travelling in foreign countries are happy to meet fellow countryman, according to a globally survey conducted by momondo. A quarter of them are pleased to hear their language in other countries, a level of enthusiasm found only at Spaniards.
The team behind the free global travel engine momondo.ro was curious about the first moment the Romanians have when they hear their language spoken abroad. Whether it happens on the streets of major European capitals, in seemingly less popular cities, or in exotic destinations on other continents, momondo.ro specialists reveal how the Romans react when they meet their peers in such a context.
According to the momondo study conducted globally, Romanians are among the most joyful travelers when passing their fellow travelers. More than a quarter (26 percent) of Romanians are pleased to hear their language and easily enter the Romanians they meet when traveling. The same level of enthusiasm is given by the Spaniards (27 percent), being, along with the Romans, the most communicative travelers in Europe when crossing their roads with people from their own country.
"For more Romanians, trips have become increasingly accessible to either study, work, start a new life or spend a holiday. With each trip, however, we have the opportunity to observe more closely the other cultures and, moreover, our own culture and specific elements that we miss. Almost everywhere they travel, the Romans meet other Romans, which few seem to surprise them at present, and in fact, more and more people enjoy them and make them stop by the road to change a few words with them," said Mircea Giurca, the momondo representative in Romania.
At the opposite end, those from northern cultures are the fewer people who dare to start a spontaneous conversation with people of the same nationality: Finns (9 percent), Swedes (11 percent), Norwegians (13 percent).
Much less are Romanians who prefer to avoid their fellow travelers when traveling (3 percent) or to start talking more slowly or in another language (5 percent).
In contrast, 29 percent of Romans less comfortable to start a conversation are open to having a conversation with other Romanian tourists only if they initiate it. At the same time, a third reaction often encountered by Romanian travelers is simply to smile the others with whom they share the same language, without necessarily starting a discussion.
This study was conducted online in 2018 at the momondo initiative among users in Romania and 25 other countries worldwide with Internet access. Research on Romanian travel habits is based on responses from around 1,000 respondents across the country, men and women, between the ages of 18 and 65.