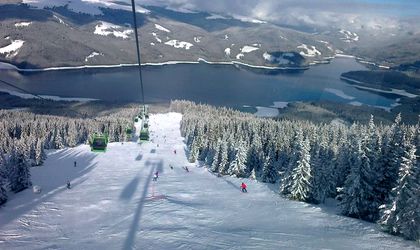 Data from the Romanian Tourism Business Owners' Federation (FPTR) shows that over 166,000 Romanian tourists spent New Year's Eve in resorts across the country – 4.5 percent more than in the previous year – and they spent over EUR 40 million, an 8.5 percent growth compared to last year's holiday.
The main reasons for the increase in both the number of tourists and the amounts they spent were a higher purchasing power and the introduction of holiday vouchers for public sector workers, which compensated for the lack of snow in some resorts.
"Like always, Romania remains the main holiday choice for Romanian tourists. Affordable accommodation, food that is cheaper than in any competing foreign destination and the fact that holiday vouchers were distributed for the first time led to the increase in the number of tourists in local resorts. On the other hand, even if it hasn't yet become a major international destination, as we would all like, more and more foreign tourists have started to look at Romania when planning for their New Year's holiday," said Dragos Raducan, prime executive vice president  of FPTR.
The highest sales for New Year's Eve were recorded in rural tourism – 57,000 tourists spent the night in guesthouses, although the number was 1.7 percent lower than last year. These tourists also spent the longest time on their holidays – up to five nights.
More than 28,000 Romanians chose spa resorts for their holidays – a number similar to the one recorded last year.
Mountain resorts saw an increase in the number of Romanian tourists this year – 37,000 people spent New Year's Eve in these areas, meaning 2.7 percent more than last year.
The highest increase was recorded for New Year's offers by hotels in large Romanian cities, where over 42,000 people spent a minimum of two nights – a 16.5 percent hike compared to last year.
As for the costs of New Year's holidays, a 4 percent increase was recorded compared to last year, even though elements such as utilities and salaries grew by up to 25 percent in 2018. The difference was compensated for by the decrease of VAT as well as by lower hotel profits.
FPTR's data shows that Romanians spent more than EUR 40 million for New Year's packages in the country – an 8.5 percent increase compared to last year.
The most popular destinations were Valea Prahovei, Poiana Brasov, Paltinis, Ranca, Straja, Calimanesti, Felix and traditional rural areas like Bran-Moieciu, Maramures or Bucovina.
Romanians who chose to spend their winter holiday abroad had to choose between ski resorts, city breaks in European cities and exotic destinations. Even though they had more days off, only 10,500 Romanian tourists used tourism agencies to organise their New Year's Eve holidays abroad.