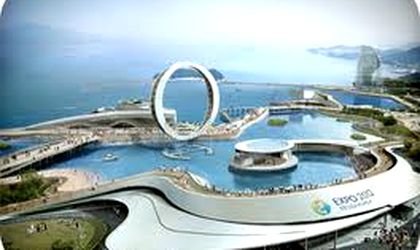 Romania will participate at the international Expo 2012 Yeosu Korea with a pavilion titled "Delta". The concept of the pavilion will focus on the Danube Delta, highlighting in particular its ecological importance along with its natural beauty given by its unique bio and etno diversity, all of these integrated in the context of sustainable measures to protect this area.
The Expo 2012Yeosu Korea centers on the theme of the 'The Living Ocean and Coast" and aims to pave the way for reasserting global efforts to tackle current global-reach issues such as the damage of the marine ecosystem, global warming and natural disasters.
The Romanian pavilion will spread on a 414 sqm area and will be structured on two levels. Following a public tender, the Korean company A&A Company Co Ltd was appointed to design, build, manage and disassembly the Romanian pavilion under a contract worth approximately EUR 700,000.
The "Living Ocean and Coast" exhibition will take place between May 12 and August 12 of this year in the port of Yeosu, Korea.
 Dana Niculescu