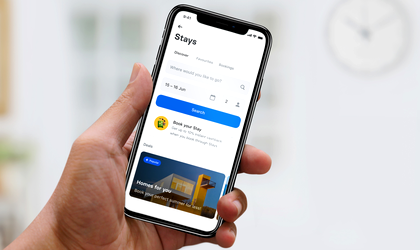 Revolut, the global financial superapp with more than 20 million customers worldwide, has launched 'Homes' – a new holiday home rental feature with cashback in its growing range of travel services offered. Homes is part of Revolut's accommodation booking service, Revolut Stays.
With hundreds of thousands of holiday homes all over the world, Revolut customers can book a stay on Homes and get up to 4% cashback effortlessly, depending on the customer's Revolut plan.
Revolut recently announced that its accomodation booking feature Stays has given over 2 Million EUR in cashback to customers globally. Homes joins Revolut's suite of travel services, as it continues to deliver ongoing product innovations aimed at meeting customers' travel needs –  including hotels, travel insurance, and currency exchange.
Homes is available in the UK and Europe and customers pay for a Home through the Revolut app. From hassle-free group bill splitting to great exchange rates, Revolut Homes has everything holiday-goers need to supercharge their accomodation.
Customers can remove the hassle from travel, with lower fees and more peace of mind. Booking a Home is easy. Customers can open Stays in their Revolut app from the homescreen or the hub, select their dates and location and then browse from the wide range of Homes available. They can filter to find everything they need – such as pet-friendly Homes or those with a dedicated workstation – and then book and pay in just a few taps.
Christopher Guttridge, General Manager of Lifestyle Products at Revolut, said: "When it comes to travel, we know that our customer's needs are changing more and more. Big or small, budget or bougie, local homes or chic-hotels – our customers want to book any kind of place, all in one place. Whether it's digital nomads working abroad, large families travelling together under one roof, or couples looking for a home away from home, we're delighted to add Homes to our global superapp to deliver hassle-free homes, hotels and hostels with effortless cashback."