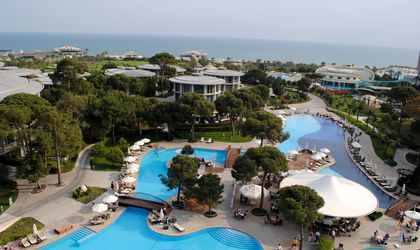 For the fourth time in a row, Antalya, Turkey will be the most popular destination of the holiday season, with a 40 percent growth in the early booking period compared to 2018, according to tourism agency Paralela 45.
Demand for internal and external destinations in early booking has increased the agency's sales volume by a third. For 2019, the company estimates sales of EUR 70 million, compared to last year's 60 million.
New charter flights to Antalya offered by Paralela 45 depart from Bacau, Baia Mare, Oradea, Suceava, and Arad, while regular flights depart from Bucharest, Cluj-Napoca, Iasi, Timisoara, and Targu Mures. A new Bucharest-Alanya flight was also introduced in 2018 to cut the time it took to reach hotels in Alanya and Side.
"Over 25,000 of Paralela 45 clients will spend their summer holidays on the Turkish Riviera, and nationally over 210,000 tourists will do so, compared to 180,000 last year," said Alin Burcea, the CEO of Paralela 45.
Another new entry is the charter flight between Cluj-Napoca and Bodrum. The company estimates that 4,000 tourists will spend their holiday in Bodrum and that another 3,000 will go there by other means of transport.
A trend seen last year was that a large number of tourists visiting Antalya and Bodrum chose five-star hotels, and 90 percent of them preferred luxury hotels with all-inclusive service and leisure options. Packages purchased in the early booking period have had discounts of up to 50 percent.
Two new destinations have been launched in 2019 – Egypt (Hurghada and Sharm el Sheikh) and Tunisia – which will attract over 7,500 tourists this year.
Over 20,000 of Paralela 45's clients will visit Greece this year with charter flights, especially in the islands of Corfu, Rhodes and Crete, followed by Santorini, Zakynthos, Samos and Lesbos, at three- and four-star hotels. 15,000 others chose Thassos, Lefkada, Skiathos, Olympia Riviera, Parga, Halkidiki, Thrace and Kefalonia.
For Bulgaria, using individual transport, the demand in the early booking period this year was 21 percent higher than last year.
Demand for the Romanian seaside has also increased by a third compared to last year, thanks to the holiday vouchers used during the early booking period. The most popular resorts are Mamaia, Eforie Nord, Olimp and Venus.