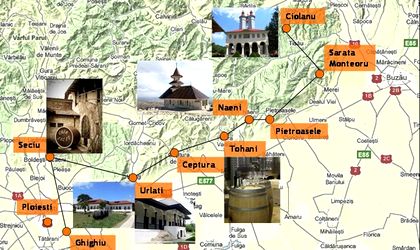 The Dealu Mare in Prahova and Buzau county wine region is aimed to become one of Romania's top destinations for cycling tourism. A pilot project has been launched by Carpathian Tourism Cluster Romania, a network which promotes tourism in the area of the Carpathian Mountains.
The new Dealu Mare Cycling Route passes through some of the most of the Dealu Mare region, offering to tourists the possibility of discovering Romanian culinary and wine tradition, culture and nature. Starting from Ghighiu and ending at Ciolanu Monastery, the route runs through the most important vineyards at Seciu, Urlati, Ceptura, Tohani, Sahateni, Pietroasele and Merei. There are wine tasting opportunities at several Dealu Mare wine cellars, as well as culinary adventures, such as truffle hunting sessions.
Mircea Crisbasanu, project coordinator and manager of Cycling Romania, thinks that the area of Dealu Mare has several advantages and shows great potential for cycling: "It is close to Bucharest, only 60 km away, and the means of reaching Dealu Mare will be considerably eased by the construction of the highway sector Bucharest – Ploiesti. There is very low car traffic along the route and this gives the bikers the chance of entirely admiring the beautiful hilly landscape. The road condition is very good and the climate is excellent for biking since the region is placed along the 45 degrees latitude like Bordeaux and Northern Italia."
Monasteries can be visited at Ghighiu, Varbila, Jercalai and Ciolanu. Historical sites (Thracian graves at Naeni, Roman site at Pietroasele), traditional art museums (Bellu mansion in Urlati), sheepfold products (Naeni), oak forests (Plopu) and spas (salt water at Sarata Monteoru) are also important points of attraction for tourists. The Dealu Mare Cycling Route is 140 km long and it can be covered in five days by people at intermediate level, who have some cycling experience, considering the terrain is hilly and flat as well.
The project also targets cycling tourists coming for a day or a weekend from Bucharest or Brasov. The development of cycling maps and the organisation of cycling events and bike competitions to promote the region in and outside of Romania is in the project's goal, as well.
The Dealu Mare Cycling Route is a pilot project and part of the cycling tourism development strategy of Carpathian Tourism Cluster Romania, which wants to develop and promote sustainable cycling tourism in the Carpathian Mountains area. Partners of the project are Cycling Romania, the tourism development association of Buzau, Monteoru Renaissance, and several municipalities in the Dealu Mare region.
Corina Dumitrescu