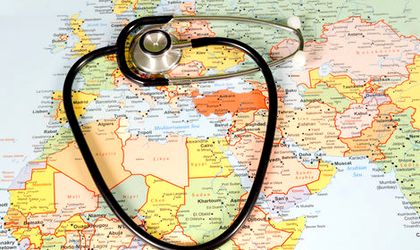 Romania's cheap medical services attract foreign citizens, who also spend significant amounts of money during their trips for accommodation, restaurants, or gifts.
Individuals who travel to Romania for medical treatment spend RON 4,100 (EUR 883) on average, according to the National Institute of Statistics. Churches and monasteries also attract foreign visitors, who spend about RON 1,600 (EUR 345) during their trips.
INS data shows that 6,475 tourists came to Romania for medical treatment during the first quarter of 2018, and 5,808 travelled by plane. They spent over RON 26.5 million (EUR 5.7 million), of which RON 10.2 million (EUR 2.2 million) on medical services.
The second highest spending source for these tourists was accommodation, followed by bars and restaurants, gifts and souvenirs as well as access to amusement parks, fairs, casinos and game rooms.
Romania had 1.452 tourists travelling for religious reasons. 41 percent of them used tourism agencies and over 1,000 travelled by coach. They spent over RON 2.31 million (EUR 500,000), of which about half went towards accommodation.
According to INS data, the total number of non-resident tourists hosted in accommodation units in Q1 2018 was 480.300, and they spent over RON 1.13 billion (EUR 240 million). Non-resident tourists who travelled to Romania for business spent RON 713 million (EUR 153 million).
Photo: dreamstime.com