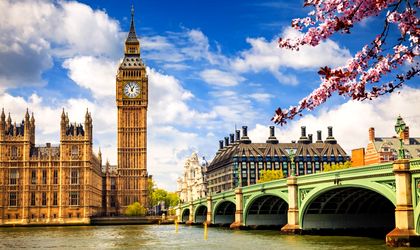 Free travel metasearch momondo.ro has looked at hotel searches in 143 capital cities around the world to find the most attractive locations and the places where tourists should expect the highest and lowest prices for accommodation.
The essential feature of cities that get many visitors is their ability to accommodate travelers coming from other places. The number of hotels is important, but the occupancy rate is the most appropriate indicator to measure the tourists' interest in a particular location.
The most popular world capitals
The most sought-after capital is London, followed by Paris and Amsterdam.
European cities dominate the ranking, taking the first 7 positions in the tourist attraction hierarchy. Their eclectic history, natural riches, high standards of living or hygiene norms all contribute to the development of the tourism industry in these cities. Among European capitals, Bucharest takes the 28th place, coming in below Belfast (Northern Ireland), Cardiff (Wales) and Riga (Latvia).
Worldwide, the Romanian capital ranks 61st, surpassing Tbilisi, the capital of Georgia, but attracting fewer tourists than Beirut (60th) or Jakarta (59th).
The top 10 most attractive cities in the world for tourists:
| | |
| --- | --- |
| Capital City | Average price for accommodation |
| London | 182 EUR |
| Paris | 166 EUR |
| Amsterdam | 189 EUR |
| Rome | 104 EUR |
| Berlin | 112 EUR |
| Madrid | 116 EUR |
| Prague | 112 EUR |
| Tokyo | 143 EUR |
| Copenhagen | 194 EUR |
| Bangkok | 94 EUR |
The capitals with the lowest prices for accommodation
Tourists are also attracted by cities with low prices. Among the 5 cities with the lowest average hotel prices are capitals visited by Romanian tourists more and more in recent years: Vientiane (Laos) and Phnom Penh (Cambodia). Among European cities, the most accessible in terms of accommodation costs are Ankara (51 EUR / night), Kiev (58 EUR / night) and Chisinau (64 EUR / night).
The average price of a night's accommodation in Bucharest in 2019 is 84 EUR, so our country ranks 30th among the cheapest capitals in the world, being slightly cheaper than Buenos Aires (85 EUR / night) but more expensive than Minsk (80 EUR / night) or Moscow (77.5 EUR / night).
The most expensive cities analyzed were Monaco (415 EUR / night), Nassau – Bahamas (337 EUR / night) and Victoria – Seychelles (279 EUR / night).
Prices are based on a search for hotels on momondo's website between 01/01/2019 and 10/07/2019 for stays from 01/01/2019 to 31/12/2019. The analyzed prices represent the average cost of living for one night in a double room, taking into account all hotel categories. Prices and availability may vary.