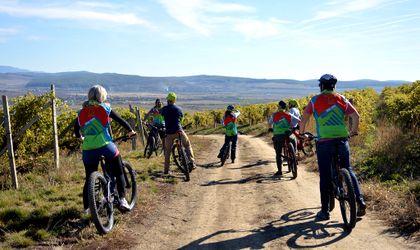 E-bikes are the new hip thing when it comes to outdoor experiences. Tour & leisure websites are offering more and more e-bike tours, so Business Review decided to ride on a lesser-known part of Transylvania to try out the trend.
From chill mode to downhill, the e-bike experience offers you a shot of adrenaline which I'd personally forgot how much I enjoyed. So on a sunny October day, we went on an official tour of rediscovering Transylvania, searching for stories through villages. The journey is called Greensylvania and it proposes a series of routes for any type of tourist: from urban explorers to the adventurous and adrenaline-seeking types. 
Basically, the bike does most of the job – steep climbs are a breeze, descending is a blast – and believe me, it's not the easiest thing to paddle on cobbled roads, but the scenery is breathtaking and the stories told by the local guide are amazing. "We started mapping Mures county for bike routes, trying to offer experiences for all types of visitors: from relaxing walks on country roads winding through orchards, cornfields and the typical architecture of the area, to rushing downhill through the forest, hills and riverbeds, using in both cases the bicycles' full suspension equipment," explains Ovidiu Morar, the co-founder of Greensylvania e-bike tours. 
The tours start from EUR 45 per day, depending on the chosen route, the degree of difficulty and the number of people participating in a Greensylvania tour. They offer Thok e-bikes, which are agile and dynamic, while the suspension is so plush and forgiving that it basically forces you to enjoy the ride. Moreover, each tour is custom-made for the group and extra brunch/lunch facilities can be added, as well as visits to local attractions or stops in the locals' homes to discover the life of a Transylvanian village. 
"We created Greensylvania as a project where the local communities, tourists' passion for sports and the beauty of Transylvania would converge and add value to the natural heritage we have here in this area. E-bikes complement this picture, offering extra comfort and the possibility of ultra-modern mobility, while also being environmentally friendly. We also encourage offline peddling, but we want to talk more and more about this green side – velo tourism and nature walks," adds Ovidiu Morar.
Unfortunately, Transylvania is not yet part of EuroVelo, the official international cycling routes portal, but the organisation notes that Romania is a country with a high cycling potential given its beauty and the variety of its landscape. Cycling in Romania will take you through mountains, hills, plateaus, plains and seaside landscapes. You will experience the country's great biodiversity, its rich cultural heritage, traditional well-preserved life-style and unique culinary experiences. On EuroVelo routes, you can follow either the course of the Danube on EuroVelo 6 – Atlantic-Black Sea or the former Iron Curtain areas on EuroVelo 13. But nonetheless, the not yet marked routes of Transylvania are worth exploring.