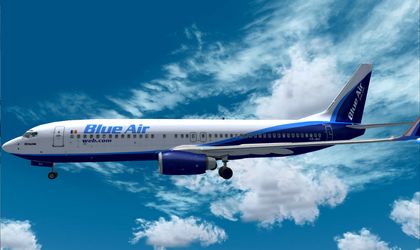 Blue Air reports 180% more passengers transported vs last year and also 22% more passengers to/from Romania have travelled with the airline in April 2022 versus pre-pandemic 2019. The company expects rising fuel prices to impact demand during summer travel and is encouraging passengers to book their summer holidays early.
Blue Air carried 236,000 passengers on board its aircraft in April 2022, with a high load factor for the industry of 86% and served more than 85 destinations, providing its customers with competitive fares during the Easter period.
While the airline has a very positive outlook seeing the return of peak demand in April, Blue Air nevertheless forecasts that demand during the summer peak could be hampered by prohibitively high jet fuel prices, which will inevitably increase summer airfares.
We are really happy to see the impressive recovery in customer demand for affordable air travel in April and it is even more reassuring for our business strategy that we have recorded that over 20% more passengers have chosen to fly with Blue Air compared to the same period in 2019 from our home market of Romania. However, we remain concerned that demand remains concentrated around peak periods, and the latest increase in jet fuel prices threatens to put the anticipated recovery in demand on hold, despite the efforts we airlines have made to recover air services to pre-pandemic levels., said Krassimir Tanev – CCO of Blue Air and added: We strongly encourage our customers to book their summer holidays early to benefit from best deals. It  can't get any cheaper!
Blue Air is offering for a very limited period up to 20% discounts on all flights with travel dates between June 1 – October 31, 2022.
Blue Air's Summer network includes an excellent selection of  sea & sun hotspots, exciting city breaks and unbeatable new destinations to explore and enjoy.
In Summer 2022, Blue Air is operating a total of 109 routes, including 41 new routes and over 30 exclusive routes.
New routes launched in April: Madeira (Funchal), Tenerife, Dusseldorf, Alicante and Porto;
Largest carrier between Romania and Portugal: Lisbon, Madeira, Porto;
Largest carrier between Romania and Greece: 11 Greek destinations;
Exclusive routes:
Bucharest – Funchal, Bordeaux, Porto, Skiathos, Kefalonia, Bilbao, Florence, Linate, Olbia, Split;
Cluj – Amsterdam, Paris CDG, Constanta, Dublin, Burgas;
Iasi – Mykonos, Zakynthos, Cologne, Munich, Paris CDG, Dublin ;
Bacau – Brussels, Barcelona, Madrid, Beauvais, Dublin ;
Turin – Santorini, Reggio Calabria.