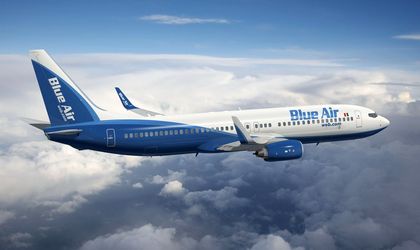 Blue Air operated its inaugural flight between London Heathrow and the heart of the French riviera – Nice – Cote D'Azure changing the game on this highly demanded route , which remained a monopoly for nearly a decade.
The route will be served initially 4 times weekly by a brand new Boeing 737-MAX-8 – offering best in class comfort, super quiet cabin experience , environmentally friendly,  and fuel efficient aircraft.
"We are thrilled to launch today this highly demanded service between the two of Blue Air core markets – London – Heathrow and Nice Cote D'Azur ending a nearly decade of monopoly service and adding greater and more affordable travel options to the market. We are happy to bring our outstanding service and low fares to the benefit of our Heathrow customers and we are aiming to develop the route to a daily service in maximum 6 month period," said Krassimir Tanev, Chief Commercial Officer.
The new service is amongst top 3 largest "Sun & Beach" markets from Heathrow and would provide highly competitive options to travel from the heart of London to Cote d'Azur. London is by far the top most demanded international market for the Cote d'Azur customers , who are also going to benefit from additional one stop connectivity via the popular inter-continental hub.
Blue Air is the only ULC operating this route, with prices starting from 29.99 Euro, one way – taxes and fees included.