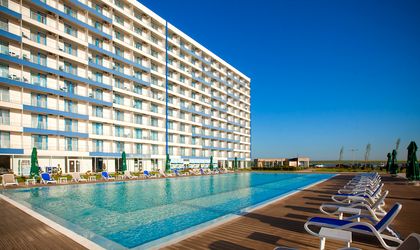 The developer of Blaxy Premium Resort & Hotel in Constanta county has completed more than 540 rooms part of the project and has also announced that the complex will offer hotel services starting this summer season. The rooms were initially meant to be available only as timeshare properties, meaning that they can be bought for a period of at least a week each year.
Some EUR 30 million have been invested so far in the project and another approximately EUR 70 million should go into new developments on the site over the next three years, according to the owner.
Construction goes on with a total of approximately 900 such condos in plan. The rooms cover either 32 sqm or 64 sqm and the property has a 3-star classification. Those interested in the timeshare option have to pay between EUR 5,000 and over EUR 9,000 for owning the property for one week.  For regular tourists prices range between RON 360 (approximately EUR 80) and RON 670 (approximately EUR 150) per night.
The resort is located on the Romanian Black Sea coast in 23 August, close to the Olimp resort. Construction on the 72 ha site started in 2014 and the first condos were opened last year. So far some 3,000 people have bought condos in the resort, according to company representatives.
The owner and main investor behind the project, Oguz Yilmaz, says that about EUR 100 million will be invested in completing the entire project which should take about three years. New developments on the site will include a hotel, a business and conference center and wellness and spa center. Yilmaz has previously invested in several residential projects in Bucharest.
Simona Bazavan