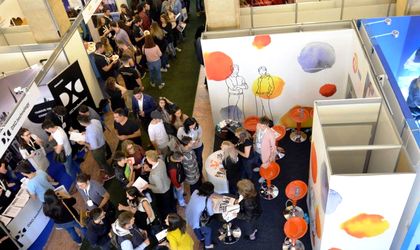 Top Employers will hold two fairs this autumn in Bucharest and Timisoara and also one that will be held online. The fair, organized by Catalyst Solutions, will bring together 340 employers among whom are some of the biggest companies in Romania. 
Catalyst Solutions announces the organization of the largest career fair in Romania – Top Employers. This autumn edition will bring together over 340 employers in the three events: Timişoara, Bucharest and the virtual edition to be held at national level:
Employers of TOP Timisoara: October 19-20, Regional Business Center Timisoara
Employers of TOP Bucharest: October 26-27, Palace Hall
Top Virtual Employers: November 5-25, www.hipo.ro
TOP Employers is a reference event for the Romanian human resources market, being one of the most effective ways a company can expose its recruitment plans. From the candidates' perspective, the interaction with employers, the diversity of open positions, the prestige of the participating companies, the large number of employers gathered during the two days of the event are some of the reasons why they participate in TOP Employers.
Top employers of this fall
The size of the three events and the diversity of the business areas that companies come from are issues that define the TOP Employers editions this fall. More than 340 multinational and local companies operating in fields such as: Engineering, FMCG, IT, Telecom, BPO, Audit and Consulting, Retail, Financial – Banking have important recruitment plans.
Some of the employers who have already confirmed their presence are: Accenture, Adecco, Adient, Akwel, Allianz Technology, Auchan, Automatic Data Processing (ADP) Romania, AXI FINANCE IFN, B.Braun, Baneasa Shopping City, BCR, BeeSpeed, Berg Software Bertrandt, Bosch Service Solutions, British American Tobacco, Carrrefour, CGI, Coca-Cola HBC Romania, Comdata Group Romania, Competence Call Center, Computer Generated Solutions Romania, Concentrix, Continental, Credit Agricole, DB Global Technology, DB Schenker SSC, Dell , DEUTSCHE TELEKOM SERVICES EUROPE – ROMANIA, DM Drogerie Markt, DXC Technology, Elektrobit, Endava, Ericsson, Faulhaber Motors, Federal-Mogul Motorparts, Filtration Group, Flex, G2- Henkel, HP Inc, Huawei, Huf, IKEA, Interdata ABS, Intralinks, IPSO, Ipsos Interactive Solutions, Kaufland Romania, Kimball Elektronics, L'Oréal Romania, Leroy Merlin, Lidl Romania, London Stock Exchange Group, Mahle, McDonald's in Romania, Medicover, MHP – A Porsche Company, Microsoft, Molson Coors Global Business Services, Mood Media, Nobel, Nokia, Orange Romania, P & G, PayPoint, Philip Morris International, PORR Construct, ProCredit Bank , Prysmian, PTC, Raiffeisen Bank, Randstad Romania, RapidSolution Software, Reckitt Benckiser, Research Now SSI, Rewe Penny, Rompetrol KMG, Rossini Sleeve Technologies, SAP, Cegedim Service Center, Schlumberger, Schneider Electric, SG ), SNC Lavalin, Stefanini, Sustainalytics, Team Extension, Teleperformance Greece, Teleperformance Romania, TELUS International Europe, Temenos Romania, Toluna, UniCredit Services, Veeam Software, Verint, WALTER GROUP Austria, Wipro Automotive Excellence Center, Wipro LTD.
Timisoara is in the top cities with most jobs 
Timisoara is currently one of the cities in Romania with an extremely dynamic labor market, focusing on the recruitment of professionals as well as young graduates and entry-level people. This autumn edition of the TOP 10 Timisoara Employers Career Forum concentrates a large part of these opportunities currently available on the local market. During the event, more than 70 companies continue their expansion in Timisoara and propose the expansion of teams, and the discrepancy between the number of career opportunities and unemployment reaching the value of one percentage turn the local market into one of the most competitive in Romania.
"TOP Employers is one of the first Catalyst Solutions projects, being a 12-year event on the Romanian market. From the very beginning, we set out to create the right context for the interaction between employers and candidates, to improve the way the event unfolds and to bring novelty and interest to those present. In the autumn edition, we are planning to bring those looking for a job closer to the ideal job. The key message of events being your ideal Job exists! Find him at Top Employers. We are relying on the confidence of our partners in the proven efficiency of the career fair and we thank the candidates for the positive feedback we receive from each TOP Employers Edition. We hope to keep up to expectations this autumn," said Dragoş Gheban, managing partner Catalyst Solutions, a company that organizes TOP Employers.
Companies wishing to participate in TOP Employers can sign up until October 5, within the limits of the available stands.