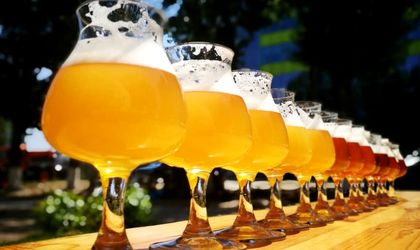 Romania ranked ninth among the biggest beer producers in the European Union last year, with a production of 1.8 billion liters, according to the European Statistical Office (Eurostat).
With an output of 8.3 billion liters (21 percent of total EU production), Germany was the main producer in 2018, with one in five alcoholic beers produced in the EU coming from this country.
Top 9 beer producers in the EU:
Germany (8.3 billion liters)
Great Britain (4.50 billion liters),
Poland (4 billion liters),
Spain (3.60 billion liters),
The Netherlands (2.40 billion liters),
Belgium (2.40 billion liters),
France (1.98 billion liters),
Czech Republic (1.95 billion liters),
Romania (1.80 billion liters).
In the European Union, last year, over 39 billion liters of beer containing alcohol (the equivalent of approximately 76 liters per inhabitant) were produced, along with a billion liters of non-alcoholic beer or with an alcohol content of less than 0.5 percent.
Compared to 2017, Italy recorded the most significant growth in beer production, of 21 percent, followed by Hungary (11 percent) and Czech Republic (6 percent).
In contrast, beer production in the UK decreased by 20 percent, in Austria and Slovakia by 10 percent, and in the Netherlands by 9 percent.
1.9 billion liters of alcoholic beer were exported by the Netherlands last year. The largest beer exporter in the EU exceeded Belgium and Germany (both 1.6 billion liters), France (0.6 billion liters) and the United Kingdom (0.5 billion liters).
The US was the main destination for beer exports from EU states to countries outside the bloc (1 billion liters of beer exported in 2018 or 29 percent of total non-EU exports of beer),
Destinations for EU's exported beer:
USA (1 billion liters)
China (453 million liters),
Russia (234 million liters),
Canada (217 million liters),
South Korea (198 million liters),
Switzerland (101 million liters),
Australia (99 million liters),
Taiwan (91 million liters).
Beer imports into the EU came from:
Mexico (250 million liters or 52 percent),
Serbia (57 million liters),
USA (43 million liters),
Belarus (23 million liters),
Ukraine (19 million liters),
China (17 million liters),
Russia (14 million liters),
Thailand (ten million liters).