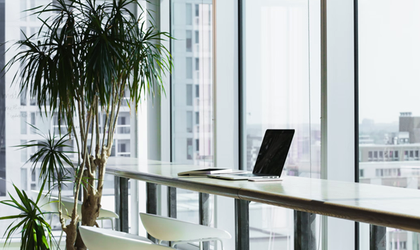 At first glance, the theme in the title may seem strange. But the experience of many managers shows that the interior really affects the mood and productivity of the staff.
Unproductiveness is often associated with external factors – what surrounds us during work, for example, the design of the workplace, temperature, and lighting. Many office employees feel constant fatigue and complain about a lack of energy – what kind of productivity and creativity can be with such a mood? If your space is experiencing similar moods, it may make sense to look around and change the surroundings.
In this article, we have collected some interesting ideas that will help make the space in such a way that you want to work in it.
Pleasant climate
It's worth starting not with the visual component, but with the atmosphere. If it is stuffy, hot in the place, and the air is dried up by central heating batteries, then after a couple of hours there will be no trace of the desire to work well. The air quality in the work area must meet the highest standards. To do this, the space itself must have good ventilation and air conditioning systems, systems for maintaining humidity.
If you want to feel alert and active all day long, make sure that there is a lot of fresh air in the room. A comfortable, slightly cool, but pleasant temperature in the summer, and warm "weather" in winter. It should be quite humid and fresh air.
People are different and they work comfortably at different temperatures. Someone is more thermophilic, and someone is ready to live under the conditioner. When several people are gathered in one room, you must look for a common denominator. A number of studies prove that the most optimal room temperature for productive work is 20-24.5 C⁰.
Comfortable chairs
You always are forced to spend in a sitting position for 8 hours a day. If you choose the cheapest and most uncomfortable chairs, then by lunchtime the back will ache, the veins in the legs will ache, and instead of striving to work, you will want to walk and drink coffee.
Therefore, it is very important to buy good, comfortable, ergonomically shaped office chairs and desks that suit them. In addition, for good health, it is really worth getting up from time to time. Motivate yourself to take short breaks and stretch at least once an hour.
Colors
The color scheme of the interior affects mood and productivity. For example, cool shades like gray and blue add lightness and freshness and give a feeling of coolness, so they are ideal for spaces located on the sunny side. For a dim room, it is better to choose more juicy shades, for example, soft pink, olive, or beige – the latter adds warmth and comfort.
Plants
Green plants and flowers in flowerpots add a little comfort and make the room more attractive not only for employees but also for visitors. To avoid turning the office into a greenhouse, use plant quantity reasonably.
Technology
For performance to be at the level, take care of installing high-quality laptops, computers, Wi-Fi, and a sufficient number of wireless chargers and sockets. Such equipment is necessary for work, and if everything is debugged like clockwork, you will be less nervous and work more productively.
Rest zone
Some managers do not consider it important to equip good and comfortable recreation areas. Like, people come here not to rest, but to work. This is a short-sighted decision. Because studies have proven that only with the correct observance of the "work-life" balance, the work turns out to be really high-quality and productive. To work productively, you need to fully relax. To do this, in modern offices, where employees are treated not as a labor force, but as a resource that needs to be taken care of, they equip islands of rest.
What is a good seating area? First of all, comfortable sofas where you can relax and chat with colleagues. You can choose and buy an oversized armchair for example. Secondly, a zone for physical activity – a couple of simulators, a gymnastic ball, and maybe even a punching bag. Thirdly, a corner for tea and coffee. And finally, a place where you can play board games, read a book, etc.
The space can be small, but the main thing is that everyone is comfortable and there is an opportunity to change the situation, go beyond work sometimes and relax a little in between solving problems.
Quiet zones
Well-planned acoustic solutions. Carpet and other soft coverings, furniture, partitions, acoustic panels, plants, lamps – all this breaks and absorbs sound in space, creating an atmosphere of calm and comfort.
Most people are more productive in quiet places. Background noise, especially if it's not just idle talk, but something that concerns you personally is distracting and reduces productivity by 40%. Therefore, in order for people to work more efficiently, it is necessary to provide "quiet zones" in the space, and there should be more of them than "loud ones".
For a person to feel comfortable, the balance of light is important, which will help maintain the right mood – brighter light in the morning tones up, invigorates, helps to tune in to an active pastime, and diffused light in the evening helps to relax and relieve stress. It is important to use natural light as well.
Lighting in the space should be thought out taking into account the type of activity, but artificial light will not replace natural sunlight. Therefore, it is good if the room has large windows, but it is terrible when it is noon outside and there are no curtains or blinds on the windows. For the working space designers advise choosing not just white vertical blinds, but roller blinds — plain or with a discreet pattern. To create shade, for example, in the case of viewing slides, roller blinds can be combined with thick blackout ones. The best solution is to fix such curtains on an electrically controlled cornice.