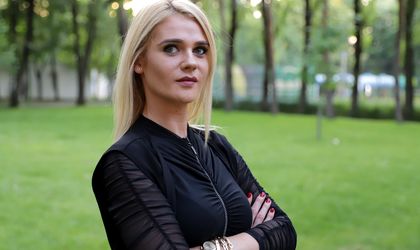 Once, shipbuilding and seamanship were reserved exclusively for men. Today, however, there plenty of women sailors, and a young Romanian woman was bold enough to bet that the ships built by her team would sail across the seas. Alexandra Tarniceru (31) used to live in Bucharest, where the only watercraft one could find were some leisure boats on the Herastrau lake. But she found better waters in Italy, along with a proper infrastructure for building metal ship structures. That's where she builds and provides specialised services with a highly qualified team of Romanians for other shipyards.
The entrepreneur admits that her line of work is unusual for a woman, but this did not scare her away. She says that the work comes with big responsibilities and challenges, as well as obstacles that must be approached with a lot of courage.
Alexandra's professional story in this man's world started out in a totally unexpected manner. At 25 years old, when she would only see ships on her holidays, she took over an abandoned business by getting involved as a partner – building metal ship structures. Her skills and career in this field developed over time with the help of her team of specialist Romanians, whom she recruited herself from Romania's biggest shipyards – Constanta, Mangalia, Giurgiu. Their professional diligence and commitment has come to be appreciated everywhere in the Italian naval industry.
"I didn't get to where I am by myself, but I'm truly proud of what I've achieved. I'm just one woman, but I have an entire team behind me. Why here? Because our reputation as Romanians is a guarantee of quality in the field and here we can find all the infrastructure to make our work easier, as shipyards in Italy have a long history. It would have been much harder to do this in Romania," the entrepreneur says.
Alexandra's success in the shipbuilding industry was a challenge and an opportunity, but it was far removed from her initial training.
"I studied marketing and tourism, I had several different jobs – in a bar in Bucharest, at a professional cleaning firm, etc.," she recounts.
She points out that her mere presence at contract talks is always surprising for everyone involved.
"Contractors are stunned when they find out they'll be negotiating with a woman. I haven't met any other women in the field, either. I'm used to it now – the good thing about it is that they can't argue with me in the same way they would have done with a man," Alexandra explains. Besides carrying out talks with clients and contractors, she's always ready to get out of the office and spend time with her team in the shipyard.
So far, her company has delivered 25 ships. The second to last ship the firm built, however, really stood out – it was the largest yacht ever built in a Mediterranean port, by a team of Romanians, and took several months of work. "It was a special order that we're proud of and we hope to be able to see it again someday," she says.
"I don't know whether I'll ever get to build a ship that will be named after me, but my dream is to someday run my own shipyard," says the young woman, who took a big risk by getting involved in this business, in a foreign place. "I was confident in my work and didn't fear failure, and I hope to be able to develop further," she adds.
Her entrepreneurial spirit? "I definitely got it from my parents," Alexandra says.
Alexandra tells us that she had to put in a lot of time in order to achieve her dream of being an entrepreneur. "You can't have it all – I gave it 100 percent and worked non-stop, including during holidays. If you call that a sacrifice, then so it is."
As for what it's like to usually be the only woman working on a shipyard, Alexandra admits that it can be difficult at times, but says that she's now used to it and can't stay away for too long.
Keeping her team of over 30 Romanians together throughout the years in a foreign country has not been easy, but Romania doesn't offer the same professional opportunities and standards as they're able to find in Italy. "I have a team of people who have been with me for years. We trust each other, we've always been honest with each other and this has lowered the risk of them leaving to pursue other work. People in the team have the ability to come back home, but they do it in turns, which is very important," she explains.
Still, Alexandra dreams about moving her business to Romania one day. "I would love to be able to do the same things at home and I'm working on it, both for myself and for my team. I'd like to be able to give them a chance to come home while also being able to work in similar conditions to what we can find in Western countries."