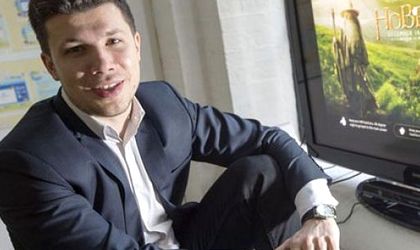 Emil Gal is a 32-year-old Romanian entrepreneur (from Satu Mare city) running a million dollar IT company he founded. In 2012 he was called by local press "the wonder kid of the IT industry" or the "Mark Zuckerberg of Romania." He started doing business when he was only 10, by making and selling business cards to his teachers. His new medtech start-up just got a USD 4 million funding and promises to revolutionize cancer diagnosis. 
He got his first job when he was 15, when he worked as a website developer for a local company. Three years later, when he was 18, he started his own company in his parents' apartment. By the time he graduated high school he had gained several clients from the US. Today, his company – Brainient – has offices in Romania, the US and the UK.
Ezra is his fresh medtech start-up that provides a new, less expensive and pain-free solution to cancer diagnoses by using artificial intelligence to scan MRI slots in bulk. The company wants to replace blood tests and biopsies with MRIs as the new standard of care. Ezra has raised USD 4 million in financing, according to Techcrunch.
Ezra launched v1 of its MRI prostate cancer screening subscription service in New York City. For $999 per year, patients get one MRI, access to medical staff and educational guides, and ongoing support if the test finds they have cancer.
For now, human radiologists still analyze the scans. However, Ezra is working to get FDA approval next year for its AI analysis that was initially found to be 90 percent as accurate as medical experts, and could turn Ezra into a lucrative and scalable medtech company.
"One of the biggest problems in cancer is that there's no accurate, fast, painless, way to scan for cancer anywhere in the body," says Ezra co-founder and CEO Emil Gal, for Techcrunch. He hopes that eventually, Ezra could offer full-body MRIs that make screening for all types of cancer easier to stomach so more cases can be caught early and more patients can survive.
To build out its team and market to potential patients at risk for prostate cancer, Ezra is also announcing it's raised a $4 million seed round led by Accomplice, the health-focused VC that funded PillPack before it was acquired by Amazon for nearly $1 billion.
The firm was attracted by Ezra's 50 percent gross margin on subscriptions that could get even higher at lower subscription prices once its AI is approved. "We're not losing money on every sale" Gal said. And while USD 999 might sound expensive, he says a prostate MRI will cost you USD 1500 if you book it yourself.
Ezra's Superhero Origin
Gal has one of those startup founder superhero origin stories that gives him the grit necessary to see the problem through. "I developed hundreds of moles as a child that put me at very high risk of melanoma. Every year I've had to check for abnormalities and do a couple of biopsies," he candidly revealed. "I've been acutely aware of the importance of cancer screening from a very young age."
After studying computer science and applied math in his home country of Romania, he built an adtech company at age 20 and sold it at 30. While working with terminally ill cancer patient charity Hospices Of Hope, he seized on the need for better cancer screenings and began his research about different methods. "The more scientists I spoke to, the more convinced I became to build a new screening modality" he recalls.
Magnetic Resonance Innovation
Rather than wait around, Ezra has partnered with the leading MRI facility network RadNet. It buys MRI time slots in bulk for a cheaper rate, starting with a location in Lenox Hill, Manhattan. Next year it will expand to more RadNet locations beyond New York City. If the AI gets approval, there'll still be human medical experts involved. The AI eliminates the grunt work of doing measurements and annotating MRI scans so the human can focus on just making the cancer/not cancer call. And if the diagnosis sadly is positive, "What we don't want to do is just drop a report on people that says 'you likely have cancer'. We want to help with the treatment process and recommend the best urologists," Gal tells me.