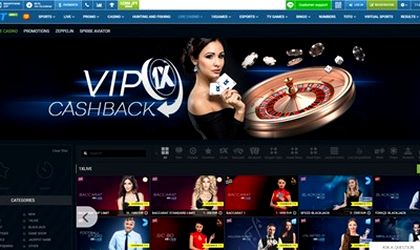 Being a leader in any business is not easy, especially when there are so many new companies that copy what you do. Online betting is among the most competitive businesses because there are multiple casinos and sports betting platforms. However, places like 1xbet's casino prove that some companies are on another level when it comes down to the things it offers.
Despite the arrival of many new casinos, 1xBet continues to be the leader in the business in many countries around the world. The website offers users everything they could ever wish for while using an iGaming operator.
Naturally, many people are interested in 1xBet and how it got where it is today. Even though the site has some problems and requires people to use VPNs and mirror links in some jurisdictions, 1xBet has numerous clients. So, let's see a couple of things that you should know.
1xBet works alongside many top-tier online casino software suppliers
One of the first things people notice when they start using 1xBet is that the company has many more games than many of its competitors. Since some sources predict that the iGaming industry will reach more than $81.08 billion in 2022, it probably doesn't come as a surprise that having more games definitely helps when it comes down to attracting additional clients.
Since developing games in-house is not worth it, 1xBet works with many big casino software suppliers. A quick look at the site will reveal names like IronDog, Wazdan, Fugaso, NetEnt, and much more. Every casino software supplier available at 1xBet is a big name in this business, which is why the games are on another level.
The casino has bonuses for new and existing players
Another thing that differentiates 1xBet from many of the competitors is the bonuses and the things they offer. People who like slots and other casino titles may come across betting platforms that have bonuses. However, they are not as impressive as the offers found here.
1xBet is a company that knows how to keep its clients happy. Due to its several years of experience, the brand is aware that users always want to have access to new things. That's one of the reasons why many of the casino bonuses are short-termed.
1xBet's casino is accessible to mobile users
Every online business that wants to be successful needs to have some sort of mobile presence. Unfortunately, many gambling companies are yet to realize this, which is why they miss out on a lot of clients. With that being said, 1xBet is not one of them.
According to the data from the UKGC, in 2020, mobile phones remained the most popular way to access online gambling. It seems like 1xBet is aware of this information, which explains why the company offers apps for Android and iOS and a mobile website.
Regardless of the options, people go for, they can access their favorite games. Needless to say, this has a massive role in 1xBet's popularity and the reasons it is so successful.
The gambling website is available in multiple languages 
Another thing that people often don't think of when creating an online betting website is the languages they offer. The data from EGBA shows that countries like Sweden, Denmark, the UK, Finland, and Romania were among the leaders in Europe regarding iGaming. Since the European market plays a crucial role for every brand, companies that want to succeed must be available there.
The bad news for most online casinos is that these countries do not have a lot in common other than the fact that they are in Europe. Each one has its own language, which explains why gambling companies like 1xBet provide multiple language options. This helps it stay among the leaders in iGaming because people who want to use its services can play casino games using their native language.