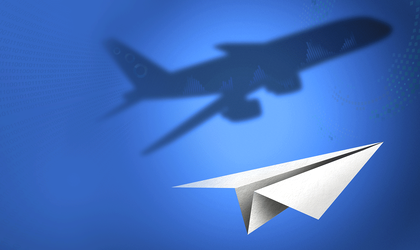 2018 was a great year for some Romanian entrepreneurs, whose startups have raised millions of dollars in financing. Startupcafe.ro has put together a ranking of the startups that obtained the biggest investments in 2018.
UiPath – over USD 400 million
The first place is unsurprisingly held by the first Romanian unicorn, UiPath, founded by Daniel Dines, which has raised over USD 400 million this year. Its latest valuation stands around USD 3 billion. Its most recent financing round by CapitalG, Sequoia Capital and Accel amounted to USD 225 million. The company's plans for the next few years include an IPO and a new office in Bucharest.
Branch – sold shares worth USD 129 million
Branch helps brands create links between websites and apps, and it was co-founded by Madalina Seghete. In 2018 it sold shares worth USD 129 million, which helped it achieve unicorn status by reaching a valuation of USD 1 billion.
Branch Metrics works with 40,000 apps which have a total of 3 billion monthly users, according to TechCrunch, including Airbnb, Amazon, Bing, Pinterest, Reddit, Slack and Tinder. Its "deep linking" technology allows the creation of links that can be sent through apps, and users can obtain the info without the need to install any new apps.
hackajob – USD 6.7 million
The startup was founded in London by a Romanian entrepreneur, as a recruitment platform that uses AI to match job applicants with employers.
It has recently obtained a USD 6.7 million investment from AXA Venture Partners, Downing Ventures and Romanian business angel Dragos Nicolaescu. In total, hackajob has raised about USD 8 million in external financing. The company is planning to double its number of employees next year.
StatusToday – USD 3.91 million
The AI-based startup StatusToday, which has a Romanian co-founder (Mircea Danila Dumitrescu), managed to obtain a USD 3.91 million investment from LocalGlobe, Notion Capital, Fastminute Capital, Force Over Mass Capital, Philipp Moehring and Andy Chung.
The platform helps employers understand the behaviour of their employees, as well as strengthen security, productivity and communication in companies.
Proportunity – GBP 2.5 million (+ GBP 5 million loan)
Proportunity is a London-based startup founded by two Romanian entrepreneurs, Vadim Toader and Stefan Boronea.
Their platform uses AI to analyse and predict real estate prices in various areas of London for several years in the future, and helps users find their ideal home.
Proportunity also allows users to access loans for up to 15 percent of the home's value, which can help them pay their mortgage deposit. Through the loan, the startup actually buys 15 percent of the home, and will get back 15 percent of the value of the home at the time when the owner sells it to someone else, even if the value is higher.
The company has obtained financing of GBP 2.5 million for development, as well as a loan of GBP 5 million to allow it to hand out its first loans.
Instant Factoring – EUR 1.5 million
Instant Factoring is a Romanian SME micro-factoring firm, and its funding came from an investment fund from the United States. The company plans to use the money to expand to other markets in Central and Eastern Europe.
The Romanian startup wants to help small companies develop by instantly turning their due invoices into cash, allowing them to access the money they are due more quickly.