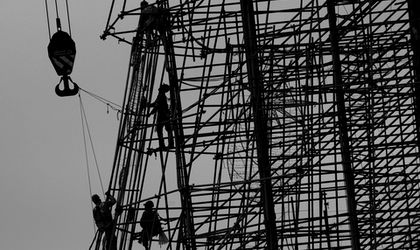 Employers will no longer have to pay foreign workers a minimum equal to the country's average gross salary, according to a new law passed by the Romanian Parliament to reduce the mandatory minimum pay for non-EU employees to the minimum wage.
Therefore, a non-EU worker can be paid with a salary starting at RON 1,162 net, instead of at least RON 2,500 net, the average net salary in Romania.
In Romania, the lowest wages are currently in hotels and restaurants – around RON 1,400 net, on average.
According to the new law, foreigners coming to Romania for employment as an au pair have their right of temporary residence for work purposes lenghtened if they submit their individual part-time employment contract registered in the General Register of Employees, out of which the length of the working time does not exceed 25 hours per week and the amount of the salary is at least the level of the minimum gross national salary guaranteed in payment, calculated at the fraction of the time worked (…) In the case of highly qualified workers,  their salaries must be at least twice the gross average wage, the new law reads.
This summer, both hotel and restaurant owners in Romania have asked the state to amend legislation to allow more foreigners from outside the European Union to be employed on lower wages. Starting next week, businesses will be able to bring workers from low-income countries in Africa or Asia, who can expect to be paid less than Romanian workers.
But the hotel and restaurant owners are not the only ones impacted by the decision, as the construction sector will also benefit.
"There is a huge difference between the minimum wage and medium wage. The measure should help, but there are also other problems. The level of public investment this year was only around 60 percent, and if the investment were made, the companies could bring more outside EU workers," Laurentiu Plosceanu, the president of The Romanian Association of Construction Entrepreneurs (ARACO), told BR.