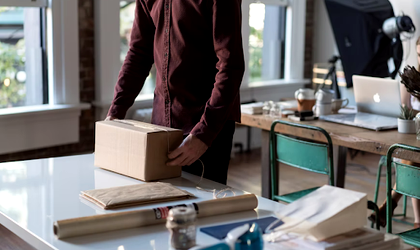 Packaging and labeling equipment is used to prepare products for retail, after production. Although many manufacturing facilities may be able to manufacture their packaging equipment themselves, it can save time and money for businesses to purchase the necessary machines instead. Packaging and labeling equipment ranges from conveyor-driven labelers to more complex systems such as those that use numbering equipment.
These machines can be used for a variety of products, including food, beverage, personal care, health, and beauty items. They can also be used in several industries, from small businesses to multinational companies. To help you understand the different types of packaging and labeling equipment available on the market, and how they can help you improve your business, we have compiled a list of some of the more common machines below.
Case Erectors 
Case erectors are used to prepare cases or trays so that they are ready for packaging. They come in either semi-automatic or fully automatic options, depending on the type of product being packaged and the needs of the business. The machines often feature clamps and glue to ensure cartons and trays stay together throughout the packaging process, but different carton erectors machines can be used depending on the amount of automation required. Case erectors are usually best for packages that will be filled with a single product type or multiple products that don't require additional labeling or barcoding, such as canned goods. They can also be used for products that are already in a case or tray when they arrive at the packaging facility.
Conveyor-Driven Labelers 
Conveyor-driven labelers are some of the most common machines used in the packaging and labeling industry. They are simple to operate and can be used for a variety of products. This type of labeling equipment uses a conveyor belt to move products through the machine, where they are then labeled. Depending on the model, conveyor-driven labelers can print or apply up to 4 colors at once. These systems are also easy to change over for different product lines. It is mostly used in the printing process that is done manually. The technology used must have an easy interface and a system that makes it easier to change from one product line to another.
Automated Labeling Systems 
An automated labeling system is a conveyor-driven machine that can be pre-setup to apply a certain label size and color to a variety of products. Once the machine has been programmed, it requires minimal input from an operator during production cycles. It is used for both manual and automatic batch product labeling, which often makes it easier to use especially when compared with other labeling equipment such as the serial number applicator. Automated labeling systems are also ideal for small businesses because they can be customized to meet any business's needs at an affordable price point without taking up too much space in the facility. After being set up, these machines can typically accommodate 2 or more different products, which helps reduce the number of machines required for production.
Automatic Numbering Machines 
Automatic numbering machines are used in several industries where packaging equipment is being utilized, including food and beverage, health care, personal care, cosmetics, pharmaceuticals, and more. They can be placed anywhere on the line to ensure correct information is always printed onto the package. Once numbers have been applied to packages using labeling machines, it can then be followed with other types of identification labels that will provide even more product information. While these machines are often best suited for production lines rather than manual labor operations because they are very expensive, they can be used to help improve efficiency and create a more streamlined production process.
Liquid Fillers 
Liquid fillers are used to fill bottles or jars with various products including beverages, oils, creams, lotions, sauces, and much more. They are commonly found in the cosmetic and pharmaceutical industry alongside packaging systems that automatically remove caps from containers before filling them with the desired product. This is because it helps manufacturers prevent cross-contamination between different products by ensuring the finished product goes directly into the bottle without any human contact. Because liquid fillers work at high speeds on industrial machines for large companies, smaller companies must often make do with one of the many tabletop versions available on the market.
Vertical Form Fill Seal Packaging Machines 
Vertical form fills seal packaging machines are some of the most versatile and commonly used machines in the packaging industry. They are used to form a pouch or bag from a web or roll of material and then fill it with the product before sealing it shut. This type of machine is perfect for a wide variety of products that need to be individually packaged, such as granola bars, candy, cookies, chips, and more. They can also be used for products that need to be protected from the environment, such as food items that need to be refrigerated or frozen. It is also one of the most affordable machines to purchase and can be set up to run in a very small amount of space.
Rotary Die Cutters
Rotary die cutters are some of the most commonly used packaging equipment. These machines use a cutting head that rotates while being controlled by a pneumatic cylinder. The rotary die cutter allows for many different types of cuts including straight lines, circles, and ovals, as well as others such as scallops or keyholes. This machine can be used for a variety of products, including cardstock, paperboard, and film. It is perfect for products that need to be packaged in a unique or customized way like greeting cards, invitations, and other paper-based products. Additionally,  the rotary die cutter can be used to create packaging for products that are too large or bulky to fit into other machines, as well as those that are too small to be packaged on fully automated packaging lines.
Bottle Packers 
Bottle Packers are used to place products into bottles efficiently and consistently. They come in many different shapes and sizes to accommodate a variety of bottle types and can be used for a wide range of products, including beverages, pharmaceuticals, oils, creams, lotions, sauces, and more. Bottle packers can be used in conjunction with Automatic Bottle Inspection (ABI) machines or by themselves. Depending on the product, it may be necessary to use a bottle packer in addition to an ABI machine because they can help reduce the amount of time spent inspecting bottles for broken seals and other problems.
Packaging equipment is an essential part of any business that produces physical products. The right type of equipment can help improve the efficiency and speed of your production process while also ensuring a consistent, high-quality final product By taking the time to identify your business' needs and goals before purchasing equipment, you will be able to find a packaging system that is tailored specifically for you and your unique operation.