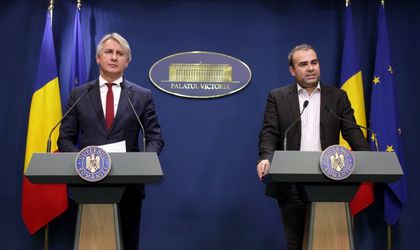 A new scandal is brewing between the Minister of Finances Eugen Teodorovici and opposition senator Florin Citu on the value of the budget deficit recorded for 2018. After Citu said that the numbers are altered for the statistics, Teodorovici declared that senator's statement "imbecile" and add that the press should check such information before publishing it (even if it is not possible to check the info based on officials statements).
"I do not know if the press is legally required to check the information before and then publish it – I will check this personally – and if there is no law, I will propose one, including a fine. It is unacceptable that an important public person, a party leader, such as Florin Citu, to give such information, when Eurostat confirms my data. It is not right to disinform the population," said Teodorovici to Agerpres.
On the other hand, the minister did not want to comment on the information in the public space, according to which he sent a letter to PM Viorica Dancilă requesting the replacement of Ionut Misa from the Fiscal Authority (ANAF) leadership.
Liberal Senator Florin Citu wrote on the Facebook page that will inform Eurostat about the manipulation of economic indicators and asks opposition experts to verify the correctness of budget execution.
"Darius Valcov confirms the crisis The figures presented by Darius Valcov are mitigated. The official data on the execution of the budget in 2018 will appear after 25 January 2019. Only then did the Ministry of Public Finance have the exact and final situation of the budget execution. People from the Ministry of Finance have told me that these figures are not real. Moreover, and that is very serious, Darius Valcov asks the employees of the finance to change the data in such a way that the final execution will look exactly as he announce, meaning a budget deficit under 3 percent," the Liberal Senator wrote.
Citu asked Finance Minister Eugen Teodorovici to allow a team of opposition experts to verify the correctness of the budget execution.
According to the latest data released by the Ministry of Public Finance (MFP), the general budget deficit increased by RON 5.1 billion in November 2018 to RON 26 billion after the first 11 months of this year, or 2.7 percent GDP. Compared to the same period in 2017, the increase of the deficit was more than 2.5 times.
In the first 11 months of 2017, the consolidated general budget ended with a deficit of 10.2 billion lei (1.21 percent of GDP). Between 1 January and 31 October 2018 there was a budget deficit of 20.9 billion lei, or 2.2 percent of GDP.
The budget deficit target for 2018 is 2.97 percent of GDP.