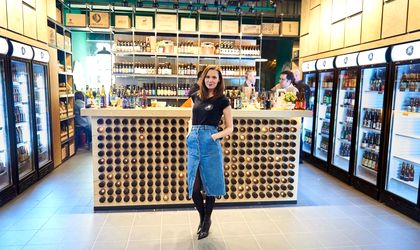 VP Craft Industries, which operates the Beer Institute concept, will open in Bucharest the second store concept in the Agora Floreasca complex. The Romanian craft beer shop will be located on the 1st floor of the complex and required an investment of EUR 35.000.
 "We decided to open our second store to bring craft beer closer to consumers. The first store, launched last summer, proved to be an even bigger success than we originally anticipated, and so we decided to invest in the expansion of the concept. As in retail sector location matters most, the fact that we are present in a project such as Agora Floreasca has helped us enormously in this decision," said Adina Mugescu, general manager and co-founder of VP Craft Industries SRL.
The second store will have over 150 Romanian beer varieties, from micro-breweries in Bucharest, Iasi, Cluj, Timisoara, Sibiu or Buzau, as well as cider-crafts from Salaj or Arges. In addition, the shelf will also include collectors' items, such as glasses, posters, hats or other products bearing the insignia of manufacturers. As a novelty, beer lovers will also be able to buy hand made snacks made in Romania – chips, crackers or popcorn. At the same time, the shop will also have a beer tasting area with 16 seats where beer enthusiasts can stay.
"We want to offer a complete experience to those who cross our doorstep. At this moment, we are the destination with the largest variety of handcrafted beer in Romania, and this has quickly placed us in consumer preferences. We always want to expand the number of beers on the shelf, especially since last year were launched over 10 beer brands locally. Nearly 40 micro-breweries have launched over 160 new labels throughout 2018," said Andreea Sararu, co-founder of The Beer Institute.
The new The Beer Institute's store aims to become a center of attraction for all crafted beer lovers by:
organizing events (new beer launches, craft beer producers and enthusiasts meetings, amateur contests, etc.);
beer tasting sessions – where the manufacturing process, the ingredients, the story of each beer, etc. are detailed;
providing hand-made beer for private and corporate events;
continuous education of consumers.
The investment in opening the new Beer Institute store in Agora Floreasca was approximately EUR 35,000 and comes from company's own sources, bank financing and reinvestment of the profit. In addition, between October and November 2018, the company ran a crowd-sourcing campaign that brought nearly EUR 10,000 from beer lovers in Bucharest.