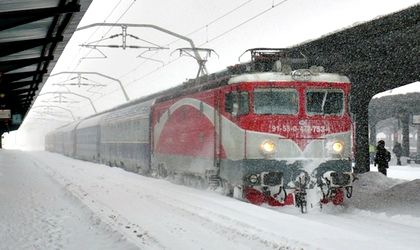 Due to bad weather, Sunday was a day of huge delays for trains in Romania. The biggest delays were recorded for the trains travelling between Iasi and Timisoara (total journey time 32 hours), and Bucharest – Arad (29 hours).
Starting 2.00 AM on Sunday, trains accumulated huge delays due to trees fallen on contact lines at several points in the southwest of the country, according to Hotnews. The situation improved only after 5 pm, but some trains stood still between 9 and 15 hours. It was one of the most serious damages in recent years, due to the numerous issues recorded at the power supply, which were difficult to repair.
The problems affected three railroads and the trains were blocked from 2 to 3 am on Sunday morning. On the M900 the first trains left at around 11 am and on the M200 after 5 pm.
The national train operator (CFR) announced Sunday at noon that more than 200 trains and 10 pantograph dredgers were operating at stations and railway sections where the traffic was still interrupted due to the trees that had broken the wires and collapsed on the tracks.
Trains with the biggest delays
IR 473 Budapest – Bucharest 14 hours and 45 minutes late
The train entered the country on Sunday at 0.37 AM, at 1.06 AM was leaving from Arad, and half an hour later he began long staying because of the trees that fell over the lines. The train left the site after 5 PM with a delay of 14 hours and 20 minutes. The train arrived in Bucharest 27 hours after entering the country.
IR 1765 Iasi – Vatra Dornei Cluj – Arad – Timisoara 13 hours and 29 minutes delay
This is one of the longest journeys by train in Romania, with 848 km that normally should be traveled in 18 hours and 12 minutes. The train left on Saturday at 15.25 from Iasi, and at 8.10 it arrived at Zam, between Deva and Arad, where it stayed for 10 hours. There were further stops to Arad, and the train arrived in Timisoara on Sunday at 23.17 PM. The trip lasted 32 hours.
IR 472 Bucharest – Budapest – 18 hours late
The train left on Saturday at 17.45 from Bucharest and reached Deva at 2.38 AM, with 31 minutes late. Then there were extremely long stops at Zam, Ilteu and Batuta, a total of over 16 hours. In Arad the train arrived 1,061 minutes late, 29 hours after leaving the capital.