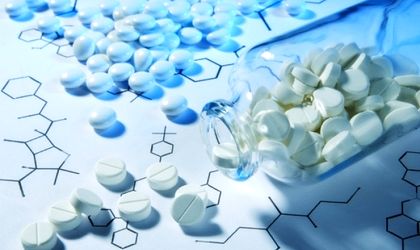 The monthly expenses for pharmaceutical products are up to 10 percent of total expense, RON 70, according to a report by Coface. The pharmaceutical products expenses are second only to tobacco and fuel from the non-food category.  
Compared to 2012, the monthly spending on pharmaceuticals have increased by over RON 10. An explanation would be the opening of new pharmacies, pharmaceutical points and pharmaceutical stores, which in 2017 reached the maximum of the last 6 years: 9,947 units.
At the same time, the report shows that the profitability of the pharmaceutical sector has increased from 3.1% in 2015 to 3.9% in 2016 and more than half of the companies have made investments in 2016.
In order to cover the trade of pharmaceuticals, the data of 1,634 companies were aggregated with the financial data for 2016. They have generated a consolidated turnover of RON 27.5 billion, up by 15 percent from 2015.
"From the income dynamics perspective, the sector had a 15 percent increasing in 2016 compared to the previous year, although over a third of the companies surveyed have experienced a decrease in turnover. Although profitability has increased, half of companies have seen a net result decline. Moreover, 1 out of 2 companies have a debt ratio of over 80 percent, while 62 percent of total debt is represented by current debts," said Alexandru Fotia, senior financial analyst at Coface Romania.
The main export partners ouside the European Union are Russia, the United Arab Emirates and the United States, representing 55 percent of total pharmaceutical products export in non-EU countries.
Total exports amounted to EUR 751 million in 2017, of which EUR 512 million were exports to the European Union. Total imports amounted to EUR 2.9 billion last year, with EUR 2.6 billion coming from EU countries.
Of the 1,634 companies active in 2016, Coface analyzed 269 companies, about 16.5 percent, but with a 79 percent share of consolidated sectoral turnover. In this context, most companies (48 percent) are classified by Coface as medium-high-risk companies. At the extreme, companies with a high risk of insolvency and 39 percent with low risk are 9 percent.