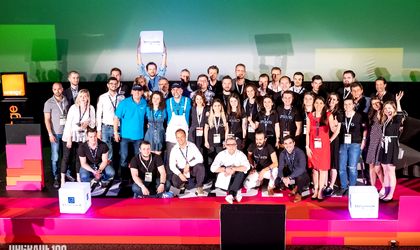 GapMinder Venture Partners BV decided to give an additional EUR 50,000 funding to 2 new startups, part of the Techcelerator program. Seven of the startups in the program were present on Upgrade 100 stage for a pitching session and 2 of the Techcelerator's alumni held presentations to get an additional round of investment.
During the Demo Day event, xVision from Timișoara, one of the Techcelerator alumni got a new round of investment totaling EUR 50,000 from strategic partner GapMinder, co-funded through the Competitiveness Operational Program 2014-2020. The investment was granted in the form of additional convertible notes (a form of loan, non-reimbursable, convertible into shares at a future company rating).
The assessment was based on companies' developments in recent months, the impact of the solutions to address market challenges, team performance, and startup's strategy.
During the third batch of Techcelerator, 7 startups received a first round of investment of up to EUR 50,000 per company.
The Demo Day Techcelerator was followed by The UPGRADE 100 Elevator Pitch event, where GapMinder Venture Partners offered an extra EUR 50,000 convertible note for the most convincing startup on stage. Out of the 15 startups that were pre-selected for the 200-seconds pitches, the winner was Antifragile, which develops a system of intelligent labels for remote monitoring of the packages during transportation. The startup was selected by a jury consisting of representatives of capital funds and other potential investors. Among them was Dan Mihaescu, one of the founding members of GapMinder Venture Partners.
"We are excited about the performances of the startups in the third batch of Techcelerator, but we are equally open to the whole ecosystem. This is why, as partners of the UPGRADE 100 Elevator Pitch, we have offered another EUR 50,000 euros as convertible note," said Dan Mihăescu, Founding Partner GapMinder Venture Partners.
The two events were preceded by the "Agora Investors – Meet Future Partners" debate at the UPGRADE 100 festival. GapMinder was represented on stage by Cosmin Ochisor, one of the partners of the venture capital fund.