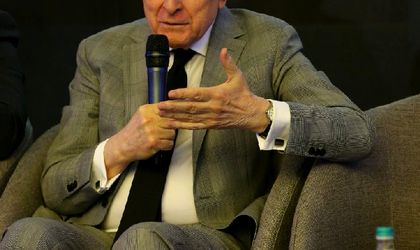 In order to make banks finance themselves from the population and companies, the National Bank gave up the moral solution that implies direct dialog with all banks, and applied a legal solution, by reducing liquidity given by the National Bank as loans to the bankk, "making them turn to population and companies, and force them to raise interests on deposits", Adrian Vasilescu, adviser of the National Bank's Governor said at BR's Tax&Law conference.
Accroding to him, the Finance Ministry is the only institution that has legislative initiative and can bring forward proposals for emergency ordinances or legislative projects.
But the rules of economy are above state institutions. "Above the government's, the parliament's and the BNR's decisions, there is a supreme court – and that means the business environment. The law of supply and demand is like the law of gravity – leaders in history have tried to take measures to suppress it, but it's impossible", he added.
Vasilescu approached the stressful issue of the level of financial intermediation, the lowest in the EU- below 20 percent.  "Others have as much as 100 percent", Vasilescu explained. "A requirement the society has for banks is to be able to take out loans and pay them off as people do abroad – but in order to be able to do so, we would need a financial intermediation level like the one in other countries", Vasilescu added.
When we talk about interest rates we can't compare with western European states, but we can compare with our neighbors, the official stated.
Inflation is strictly related to interests  levels and to the measures taked by the Govermen. "Any country wants a 2 percent inflation rate – it's considered to be the optimal level. And we had this level for a while in the last years, but in the fall of 2017 it almost doubled and the ROBOR started climbing too – and that's when the Finance Ministry started to blame the BNR for not doing its job properly.The only objective cause for the rise in inflation and the ROBOR were the inflationist measures taken by legislators – we suddenly found ourselves facing an issue that we couldn't control: the nature of economics.
Vasilescu pointed out that Romania has a EUR 35 billion capital deficit due to companies that are in insolvency or bankruptcy. "And business with negative capital can't qualify for bank loans in order to increase financial intermediation. An average Romanian households spends below RON 3,000 monthly – but they spend less on clothing and shoes than on alcohol and tobacco", Vasilescu concluded.