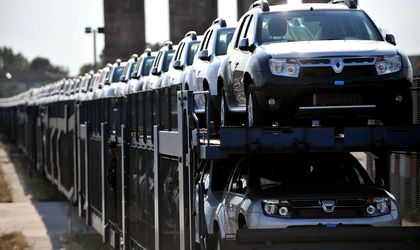 SUV sales from all segments have risen sharply in the world in recent years, reaching 27.8 million in 2017, 34 percent from total sales, according to JATO data cited by Autovit.ro. In Romania, SUV sales grew strongly, APIA data showing a 59 percent increase for the entire category. On Autovit.ro, the site for selling cars, 40 percent of all ads are for SUVs, with prices that vary from EUR 7,000 for a crossover to EUR 25,000 for a new model.  
The segment, often called the "small SUV", which includes small and compact SUVs, totals 5.9 million cars last year, of which 1.5 million in Europe. The segment is also called the "small crossover" and includes models between 4 and 4.4 meters in length.
The advance of small and compact SUVs continued this year, when the segment reached 36 percent of the European market, a new record. At this total, small SUVs contributed more than a third. Estimates from various analysts indicate an increase of 400,000 – 500,000 units in sales of small SUVs with the emergence of new models in the market. These cars are also good in the ranking of best-selling European models, Renault Capture being on the 8th place in July, and Dacia Duster on 14th place.
In Romania, the SUV segment also grew strongly, APIA data at seven months indicating a 59 percent increase in sales for the entire segment. Two of Europe's best-selling SUVs are produced in Romania: Dacia Duster and Ford EcoSport.
The registrations of small and compact SUVs were significant in August locally. DRPCIV data show that 1,855 Dacia Duster cars, 733 Renault Captur, 480 Suzuki Vitara, 327 Ford EcoSport and 187 Opel Mokka were registered, these being just a few examples.
Starting prices are also below EUR 15,000 for some models, and EUR 25,000 can be bought cars in full equipment and stronger engines. The most expensive small SUVs, with powerful engines and maximum equipment, cost more than EUR 30,000.
The number of B and C SUVs has risen steeply over the past two years, exceeding 25. The best-selling cars are Renault Captur, Peugeot 2008, Opel Mokka, Dacia Duster and Nissan Juke. Italy, France and the UK were the biggest markets for these small SUVs.
Small city SUVs on Autovit.ro
On Autovit.ro, SUVs are present in 40 percent of ads for cars, over 6,000 ads in total. Small and compact SUVs have an important weight and are found in over 500 ads.
Even those with budgets below EUR 7,000 – 8,000 can get a crossover, the lowest prices being on models with a turnover of over 150,000 km, but also on diesel. However, new models can also be purchased at over EUR 25,000, with many facilities.
On Autovit.ro, prices for Class B and C SUVs reach less than EUR 10,000. For example, Duster can also be purchased at EUR 5,500-6,000, with 2011-2012 models running over average. But the new Duster, in the 4×4 version and with a wealth of equipment, is available in the offer at over EUR 17,000.
For Renault Captur, prices range from EUR 8,000 for models produced in 2013 with a turnover of approximately 200,000 km and EUR 16,000 for diesel in 2017 or 2018.
At La Peugeot 2008, prices range from EUR 8,900 to EUR 16,300 and the Nissan Juke is listed in advertisements priced between EUR 7,400 for models seven years ago and EUR 18,500 for new models. At Opel Mokka, listing prices range from EUR 9,000 to over EUR 20,000, while Ford EcoSport costs between EUR 11,000 and EUR 19,000.
Prices for Mitsubishi ASX are between EUR 9,000 for models in 2012, up to EUR 27,000 for 2017 models with maximum equipment.
At Renegade, the smallest Jeep model, prices range from EUR 14,000 to EUR 31,000.