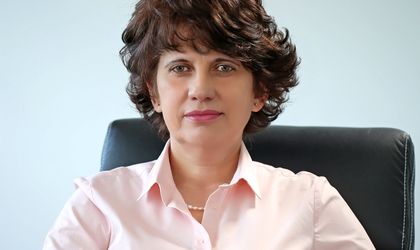 COSMETIC PLANT celebrates 30 years of existence. A company that started right after the Revolution and managed to successfully evolve for three decades, seeing all the changes in the Romanian economy and society. Business Review talked to Susana Laszlo, General Manager at COSMETIC PLANT, to find out more about the business, the industry and plans for the future. 
Business Review: There are few private companies that have survived the market in the last 30 years. What does such longevity entail? How much effort is required to withstand a market that has undergone so many changes?
Susana Laszlo: The story of COSMETIC PLANT began in 1991, in Cluj-Napoca, shortly after the Romanian Revolution, with the vision and passion of my mother, Ileana Mester, who was at that time a pharmacist and researcher in the field of cosmetics recipes. Her dream was to help women enhance their natural beauty with the help of cosmetics of the highest quality, but also affordable, with formulas based on the power of natural ingredients.
I have continued my mother's dream with a lot of work, dedication, and involvement, and although the road from desire to reality was not without difficulties and obstacles, I managed to build a strong company and offer women innovation in cosmetics.
My mother knew very well how important skincare is and having a simple, but effective, routine in preserving and emphasizing natural beauty, and this is the recipe behind every COSMETIC PLANT product for over 30 years – simple, natural, effective.
If I could name some of the key factors of success and longevity, I would say that perseverance, courage, creativity, but also respect and fairness, both to employees and to partners are translated into the final result, that is, the quality of the products created by our own recipes and the happiness of our faithful clients, satisfied with the results they achieved.
Over time, the market has indeed undergone many transformations and, certainly, it is not easy to do business in this field. We've always had the advantage of superior quality, but we have faced and are still facing periods when it is difficult for us to keep up with the huge budgets invested by players in the same segment. COSMETIC PLANT grew organically, slowly but surely, as consumers tested our products and discovered their benefits.
I strongly believe that we owe most of our achievements to the fact that we've remained a company that stays true to the principles we had when we first started our way, and this has helped us and brought us to where we are today.
Efforts, no matter how big, take a back seat when the passion for what you do is what guides your actions, and above all we put a lot of soul into our daily work.
We are glad that after 30 years of effort, innovation, and research, we have won numerous international awards and recognitions.
B.R.: What are the moments you would remember from 30 years of history?
Each day of the 30 years of activity has been dedicated to naturalness and a continuous investment in performance and exceeding the limits. We are constantly learning, even now, and we've never stopped researching and combining science with creativity that leads to innovation.
Our strength is that we really manage to enhance the intelligence of plants and turn it into amazing products, adapted with the help of new technologies, which we are proud of today, and that is what brought us international recognition and awards at the most prestigious profile competitions in the world.
My mother started shyly on the COSMETIC PLANT road, but with a lot of self-confidence, with creams created in small series, having labels glued and handwritten, the same hand that shook back that of satisfied customers, more and more numerous. In 1995, after finishing my studies, I joined her and offered my support in her passion, which had already taken shape of a business.
In 2009, I took over the cover of the COSMETIC PLANT story from my mother's hand and came to lead the company, which recently turned 30 years old.
Between 2012 and 2021, COSMETIC PLANT climbed the podium at World Quality Selections, the most important international product quality competition in the world, organized by Monde Selection, where it won a total of 15 awards. We launched for the first time on the Romanian market products with innovative ingredients, such as fat-soluble vitamin C Tetra, 4D hyaluronic acid, cannabidiol, Olea Vitae – award-winning ingredient, ozonated olive oil or peony root extract.
Today, after 30 years of existence, we remain a brand dedicated to plant intelligence and scientific research, a brand that continues its mission to help women discover themselves in depth and enjoy their own individuality.
Our products are created in the laboratory, with meticulousness and increased attention paid to innovation, and this has helped us to become a reference brand for women in Romania.
B.R.: What is the level of investments made in all 30 years (at least estimated)? Where did these investments go to mainly (building construction, research, production lines, etc.)?
We have sold over 20 million products and invested over 2.5 million euros in all 30 years of activity.
At the same time, we registered a dynamics of average business growth of 10% annually, with constant profitability, that currently has a portfolio of over 140 products developed in our own laboratories in Cluj-Napoca.
Investments have been directed to all sectors, depending on the moment, both in research and launch of new ranges, but also in rebranding and repositioning for certain product categories.
For example, in 2013 we invested in a new 1,700 sq m office, which includes the factory, warehouse, and administrative offices, while in 2014 we completed the refurbishment project co-financed by the European Regional Development Fund, in which we purchased two new state-of-the-art machines, which contributed to the 70% increase in production capacity. Also, our future plans include investments for a new factory.
B.R.: How difficult is to receive international recognition for your products?
COSMETIC PLANT products have been recognized and awarded internationally many times, in prestigious specialized competitions, which encourages us and gives us confidence to expand beyond the borders in the future. Now we focus on developing strategic partnerships for exports, we are already working on a range of products dedicated to foreign markets. Depending on the geographical area, the needs are different.
I truly believe that when quality and innovation are the key references in a company's business card, international recognition comes naturally.
B.R.: How important is science in this industry? How much is research in the company's activity?
We believe that there is an intimate, deep relationship between us and plants, between us and nature, our life being only a series of opportunities for a meeting between us and ourselves, between us and our nature. Hence our slogan "embrace your nature".
COSMETIC PLANT is taking an opening to people, to the world, whose dome is the idea of ​​self-knowledge, of meeting yourself through the encounter with plants, with their miraculous potential, and science and research are undoubtedly extremely important.
Our long-term expertise gained over the past 30 years, has taught us that only continuous research can lead to innovation.
COSMETIC PLANT is a brand that remains devoted to plant intelligence and scientific research and will continue to do so.
B.R.: What are the trends in the cosmetic industry and how have they changed? How difficult is it to keep up with these changes so that you can stay competitive? Are there products that have survived over these 30 years?
The trends in the cosmetic industry have changed, without a doubt, from 30 years ago. Women have become more aware and conscious about the importance of skincare and invest more time and resources in this part of their lives. Access to information also made things a lot easier. Because of this, women show now increased interest in natural beauty and appreciate even more the products whose formulas are based on natural ingredients.
What has remained unchanged all these years since the company was founded is the fact that we continue to use plants as active ingredients, and their power is the basis of all newly created formulas.
B.R.: Which are the star products of Cosmetic Plant?
Some of the best-selling COSMETIC PLANT products are anti-wrinkle cream with marigold extract, vitaminizing day cream with sea buckthorn and olive oil, hand cream with marigold extract, hand cream with sea buckthorn oil and whitening cream with lemon extract.
The lines with vitamin C Tetra and 4D Hyaluronic Acid are also on the list of preferences, these being two of the ranges that contain innovative ingredients, launched for the first time on the Romanian market in 2018 and 2019, respectively
B.R.: What are the company's future plans? What's next for Cosmetic Plant in the next 5-10 years?
For the Romanian market, we are working on a larger strategic brand communication project. At the same time, we continue researching and testing for new product ranges and we're planning how to approach new consumer segments.
Speaking about medium and long term, we plan to expand abroad and make COSMETIC PLANT brand and products known in as many places around the world as possible.
We'll continue to invest in research and innovation and launch revolutionary new products on the market. We are pioneers as our customers know us and have become accustomed to.
The story of COSMETIC PLANT goes on and will continue to write history from now on.