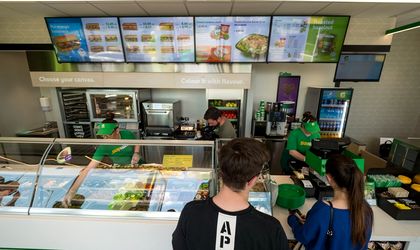 Subway, one of the largest restaurant chain with fast servicing in the world, announces the expansion of the Romanian network with two new locations, one in Aurora Shopping Mall in Buzau and the other in the Petrom fuel station in Afumaţi, Bucharest. As a result, the Subway chain reaches 37 restaurants nationwide.
The restaurant in Buzău is the first Subway® in this county and is located in the mall operated by NEPI Rockcastle, one of the leaders of the real estate retail segment in Central and Eastern Europe.
Madalina-Roxana Balica, owner of the Subway restaurant, is a young entrepreneur who wants to familiarize the people of Buzau with the products of the famous American brand.
"We are very happy we brought one of the most successful restaurant chains in the world to Buzau. We are planning to build a strong local customer base, and also welcome visitors of the city for our famous recipes", says Mădălina Balica, the owner of the Subway restaurant in Buzau.
"The opening of the restaurant in Buzau is a bold bet in a period like this, but at the same time represents the commitment of Subway® to the Romanian market. We are in line with the changes in tastes and habits, such as the adoption of meat-free dishes, and here we strive to have an offer in line with demand, such as the newly launched T.L.C. Teriyaki, a plant-based alternative of the favorite Chicken Teriyaki sub", said Andrei Trifan, Business Developer for areas throughout Romania except Bucharest-Ilfov.
The restaurant in Afumaţi is the latest investment of the businessman Cristian Dumitru, who is now operating 13 Subway restaurants.
"We demonstrate that Subway is a strong brand in Romania by continuing to expand in partnership with Petrom. Other restaurants in Petrom network will follow soon", said Cristian Dumitru, owner of the Subway Petrom restaurant.
"We are pleased to announce the continuation of the strategic partnership with Petrom, offering Romanian drivers the opportunity to serve delicious food during refueling stops at the gas stations where we operate Subway restaurants. And we hope to increase this number of Petrom stations where we deliver Subway products", said Rumen Radev, Business Developer for the Bucharest-Ilfov area, Romania.
For the first half of 2022, Subway plans to open two new restaurants in partnership with Petrom, one in Sibiu and the other in Bucharest, bringing to 17 the number of open locations in the aforementioned gas station network.
Also this year, Subway plans to renovate several restaurants with the new Fresh Forward decor.