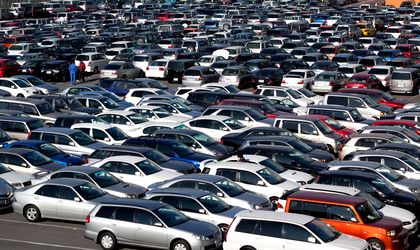 Worldwide car sales and car production in 2018 recorded the first drop of the last nine years, and 2019 is expected to remain challenging for the automotive industry, which has a value of USD 5,800 billion and comes with an average risk, as an Euler Hermes study shows.
Sales of new light vehicles should drop in the US (-2 percent to 16.8 million units), due to less sustained financing and increased competition with the growing second-hand market. In China, the largest car market (accounting for more than 29 percent of global sales last year), sales began in a slow pace in 2019 and should only gradually benefit from a recovery in consumer confidence tax incentives and emission mandates – two issues that led to the first drop in sales after nearly three decades in 2018. The EU market will strive to avoid stagnation throughout the year and will have volatile monthly sales performance compared to turbulence last year caused by the introduction of the Global Lightweight Light Vehicle Testing Procedure (WLTP).
Regulatory tightening, from the ban on trafficking and restrictions on access to cities to stringent pollution standards continue to intensify market transition. The pressure is high in Europe through the implementation of Emissions Road Transport (RDE) certification in September 2019, but also the CO2 targets set for 2020, 2025 and 2030 with financial sanctions threats. Euler Hermes experts expect a faster drop in diesel sales and a more rapid launch of new models compliant with the new regulations, which will keep the global EE recordings (electric vehicles) double digit. However, related research and development costs, industrial deployment, marketing are based on operating margins and may cause certain actors to adapt their portfolios and production capacities through investment and innovation in connected machines and autonomous vehicles.
At the same time, the sector remains vulnerable to major turmoil caused by Brexit and US trade policy, threats to US US car imports (up to 25 percent) and potential changes in China. The expectation are that the negotiations will be completed by the end of the first half of 2019. The results are uncertain but have the potential to disrupt international trade in motor vehicles and the current implementation strategies and interconnections of the supply chain of global actors.
The automotive sector in Romania
Somewhat in contradiction with developments in developed countries, the automotive sector in Romania is going through a favorable period, with consecutive increases in the last five years of new car purchases at local level. The 20 percent growth in 2018 followed by a 6 percent rise in the first quarter of 2019 could mark another positive year. Export remains the main lever of growth, with the number of exported cars significantly exceeding the number of imported cars each year, ensuring a significant trade surplus in the balance of payments.
Turning to global trends, the propensity to use gasoline cars at the expense of diesel is also confirmed locally, with the share of premiums rising to 2/3 of the total, compared with about 55 percent in 2018. Electric and hybrid cars also grow in weight, but still do not have a significant volume.
The strongest impact on the European car industry in the coming years is likely to occur not due to Brexit, nor as a result of the imposition of tariff restrictions in relation to the United States but on alignment with its own EU carbon leverage regulations.
Thus, the 20 percent needed to be reduced by 2021 will add an additional 15 percent by 2025 and 37.5 percent by 2030 – above the initial expectations (-30 percent) of the producers.
In the light of these constraints, the need to maintain margins in a cyclical industry at a late stage of the economic cycle, the expectations for the European market are increasing by 2.6 percent of the average price during the period 2019-2020, respectively a fall in car registrations we 3.1 percent, which would amount to a decrease of nearly EUR 3 billion in car sales.
With only Germany's share of over 40 percent in both exports and imports of motor vehicles, Romania cannot remain immune to the above-mentioned changes at the continental level. Although global automotive manufacturers have accumulated significant buffer reserves since 2010, and for those active in Europe since 2014 – annual growth of 16 percent in sales and 22 percent in operating profits between 2015-2018 – revenue pressures and margins will intensify.
In order to maintain reasonable financial ratios, it is to be expected that producers will ultimately exercise the highest bargaining power in relation to captive suppliers both at the margins of profit and in the management of working capital.
What do we need to be careful about?
Decrease in light vehicle sales in the top US, China, Europe and downturns of diesel vehicles.
The growth momentum of electric vehicles in Europe and changes in the regulatory environment, in particular public subsidies for electric vehicles and the ban on internal combustion engines.
Innovation in autonomous leadership and new mobility services that stimulate R & D spending, fixed asset investments, the merger and acquisition market, and partnerships with various vendors.
Producer and supply chain strategies in response to Brexit uncertainties and US threats to tariffs.
Subsectors:
Automotive manufacturers: Producers face strong global pressure: geographical diversification, launch of innovative models and operating cost adjustments remain an essential strategy to protect profitability and finance spending on R & D, capex, M & A and partnerships needed to transform the industry.
Vehicle suppliers. Suppliers most often record higher revenue and profitability than manufacturers. The transition from the market is to increase the technical content on the machine and the opportunities, but to drastically reduce the need for components (ie diesel).
The strengths of the automotive sector
Increasing consumer appetite for alternative energy vehicles and new mobility services.
Diversity of local needs (ie city cars in China, pickups in Thailand).
Dynamic demand in emerging markets (middle class growth, low equipment), supporting medium-term prospects of the market.
Demand for premium models and larger sports vehicles (SUVs) that support the profitability of car manufacturers.
Expertise of established actors on issues of differentiation (eg design), production and supply chain.
The weaknesses of the automotive sector
Slower renewal needs and lower prevalence among younger generations in large cities of mature markets.
The proposal of the value of short-term electric vehicles due to the battery cost, the range of operation and the extension of the charging network.
Enhancement of environmental requirements (pollution, CO2 emissions) requiring heavy investment and resulting in high car prices.
Dependence on sales of new cars based on public measures (subsidies, tax exemptions), monetary policies (loan cost), oil prices (running costs) and second-hand market prices.
Increased competition by giants and start-ups in the field of connected and autonomous driving technologies.